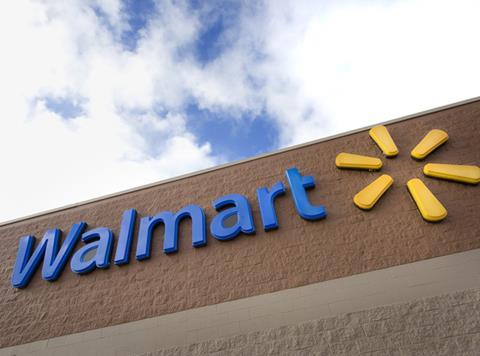 Walmart shares dived 10% yesterday in the US after the world's biggest retailer issued a profits warning.
Walmart's stock plunged by the most in more than 15 years, according to The Times (£), after it said that a scheme to raise entry-level wages, clean up its outlets, increase online sales and cut prices would knock about $1.5bn off operating income.
The FT said the profits warning "laid bare the cost for Walmart of taking on Amazon" (The Financial Times £), while The Guardian highlights that its much-trumpeted plans to raise hourly wages accounted for 75% of the lower earnings target. The Daily Mail quotes one analyst said that with revenues of £300bn "There is no way they can continue to grow, they are just too big".
In a downbeat commentary, the FT's Lex column writes: "Everyone saw that the trend was bad. Few anticipated how bad. And now that the scope of Walmart's problems is clear, the company has presented a plan that will reassure no one." It concludes: "Walmart is committed to the past, and is heading there fast." (The Financial Times £)
Elsewhere, M&S' new Sparks loyalty card launch gets plenty of coverage – the card will reward its customers for purchases, leaving product reviews on its website or donating clothes to charity. (The Times £, The Telegraph, The Daily Mail)
Sainsbury's is axing its mobile phone service after talks broke down with its network supplier Vodafone in a move affecting around 150,000 customers. The chain said its Mobile by Sainsbury's service will end on January 15 just two and a half years after it set up the joint venture with Vodafone. (The Telegraph)
Bankers to the two brewing giants SABMiller and Anheuser-Busch InBev, which have just agreed the third largest takeover deal in corporate history, are set to share in a fees bonanza of up to $235m (£152m). (The Guardian)
Britain will spend almost £8bn a year on takeaways by the end of the decade as a surge in smartphone usage and time-pressed households cooking fewer meals boosts the country's predilection for takeaway food. Expenditure on pizza, curry and Chinese food is expected to grow by 28% during this decade to £7.6bn a year according to figures from Euromonitor International. (The Guardian)
That trend for takeaway food was illustrated by Dominos yesterday, which saw its shares hit record high as digital orders surge. The pizza provider grew revenues by a fifth in the July to September period as consumers ordered via its app. (The Telegraph)
Retail stores closing at lowest rate in five years, writes The Guardian. PwC figures show that while shops are still being shuttered the pace has declined to a level not seen since 2010