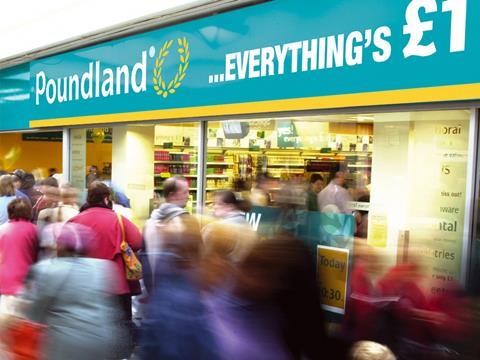 The papers are dominated this morning by the appearance of Sir Philip Green before MPs answering questions on the BHS collapse, but Steinhoff's approach for Poundland also gets a look in.
South African billionaire Christo Wiese, who owns Steinhoff, has made a "daring bid for ailing high street chain Poundland", writes The Mail. "Steinhoff launches bid for struggling Poundland" is the headline in The Telegraph as the paper flagged that the South African group has already failed in its approaches for Argos and Darty earlier this year. The Times notes that Steinhoff has built up close to a 23% in Poundland after buying Warburg Pincus' 15% stake, making it the retailer's largest shareholder. Shares in the discounter rose 2% to 200p – the highest level this year – valuing the company at more than £530m (The Guardian). The rise followed a 27% jump in Poundland shares on Tuesday. The Lex column in The Financial Times struggles to understand the reasoning behind the potential takeover calling the move "a deal in search of a strategy". "A big part of discount retailing is persuading people to buy things that they do not need simply because they are cheap," the paper writes. "Steinhoff can certainly afford to snap up Poundland, the UK chain of cut-price stores. The question is what purpose it would serve."
The Independent rounds up the latest in the BHS debacle with 10 things learnt from Sir Philip Green's testimony on the collapse. Green will have to make a generous offer to rescue the BHS pension scheme if he wants to save his reputation and knighthood, MPs warned after a six-hour hearing with the billionaire retail tycoon, The Times says. The Guardian business editor Nils Pratley says "Green has a thin skin but a fat wallet" and asks will he open it for BHS pensioners? Telegraph business editor James Quinn writes "with respect, Sir Philip, your blame game on BHS doesn't wash" in his take on yesterday. The FT says Green gave a robust defence of BHS ownership as he faced questions from MPs on everything from his tax affairs to BHS's pension. The Telegraph notes that Green's wife Lady Tina Green will now be called to give evidence after Sir Philip promises to 'sort' pensions.
Finally, The Times reports that the rise of online shopping and increasing dominance of discount retailers means that Britain's food and grocery market is set to grow 10% per cent by 2021, valuing it at £197bn, according to IGD.