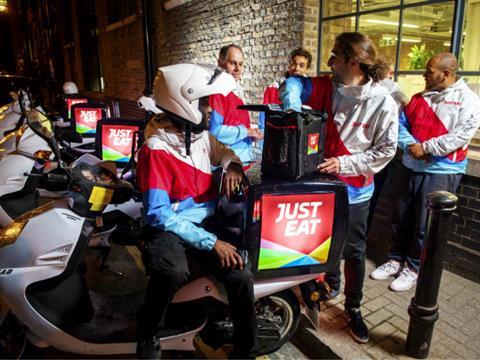 A US hedge fund has criticised Just Eat for becoming "the worst-performing public equity in online food delivery", urging it to shed assets, change pay incentives for senior executives and announce three-year financial targets in the next month (The Financial Times £)
Sainsbury's and Asda are preparing a joint assault on the grocery industry's biggest suppliers if their blockbuster merger is approved, in a move that will revive memories of the Marmitegate price row between Tesco and Unilever. (The Telegraph)
Sainsbury's and Asda have won their judicial review against the Competition and Markets Authority and will now be allowed additional time to submit documentation in support of their proposed combination (The Financial Times £). Sainsbury's and Asda have won their battle to gain extra time from the competition regulator investigating their planned merger (The Telegraph). Sainsbury's and Asda have been given more time to respond to the competition inquiry into the £12 billion merger between the two grocers (The Times £). Sainsbury's and Asda have won extra time to respond to a competition authority investigation into their planned £7.3bn merger (The Guardian).
Retailers vying for customers in the last full week of trading before Christmas are in for a tough time according to the latest predictions, with footfall expected to fall by about 3% this week as cash-strapped shoppers rein in spending (The Guardian). Bleak run-up to Christmas caps sorry year for UK retail, writes the FT, noting that unusual weather, cautious consumers and Black Friday discounting have made trading very difficult (The Financial Times £). Ferociously bad weather brought by Storm Deirdre battered parts of the UK on Saturday with snow, gales and bursts of freezing rain (The Guardian). Bad weather and the lure of online shopping saw consumers shun UK High Streets on one of the busiest days before Christmas (The BBC).
Retailers may have suffered the biggest drop in footfall for a November in a decade, but latest figures for the pub and restaurant sector suggest that it is not all doom and gloom on the high street. (The Times £)
A total of 93,000 retail jobs have been lost in the past year amid a crunch on the High Street. (The Daily Mail)
Struggling shopping centre owner Hammerson is attempting to fill empty space by playing the traditional role of department stores, renting out concessions direct to small brands. (The Telegraph)
The number of restaurants filing for insolvency in the UK has nearly doubled over the last eight years, with Brexit concerns, business rates and over expansion among the top reasons (Sky News). The number of restaurant businesses becoming insolvent jumped by a quarter in 2018 as consumers shunned the High Street, new figures show (The BBC).
An influential Commons committee has requested details of Patisserie Valerie's payment practices with suppliers amid concerns about lengthy delays. (The Times £)
A City lawyer who gave up drinking has attracted £500,000 from angel investors to build his low-alcohol craft beer brand. Rob Fink, who co-founded the specialist insurer Fenchurch Law, launched Big Drop Brewing two years ago as he tried to cut his alcohol intake at parties after the birth of his first son. (The Times £)
Godiva, the Turkish-owned Belgian chocolate brand, is to roll out 2,000 cafés as part of a plan to multiply revenues fivefold over the next six years — the latest sign of a coffee craze in the global food and drinks industry. (The Financial Times £)
Johnson & Johnson failed to tell regulators and the public that its baby powder sometimes tested positive for small amounts of asbestos. (The Times £)
Waitrose has joined the crackdown on glitter by pledging to ban it from all own-brand products by 2020. (The Guardian)
Supermarkets have increased their efforts to reduce the national food waste mountain at Christmas by offering shoppers edible produce nearing the end of its shelf life, as well as "wonky" sprouts, carrots and parsnips. (The Guardian)
The owner of the Edradour distillery has recorded a rise in profit despite suffering slow growth in revenues. (The Times £)
Fast food businesses are in talks with Transport for London as they scramble to find ways to deal with the authority's impending ban on junk food advertising. (The Times £)
Shares in US retailers are on course for their biggest quarterly sell-off since the financial crisis, putting the sector at the sharp end of Wall Street's mounting concerns about the global economy and President Donald Trump's trade wars. (The Financial Times £)
US pork producers decried the EU's "shameful" resistance to including agriculture in trade talks with Washington, exposing one of the biggest sticking points in negotiations to defuse commercial tensions between the US and EU. (The Financial Times £)
Crowdfunding platform Seedrs is preparing to launch a passive fund that lets clients back up to 100 small companies chosen by a computer algorithm. (The Times £)
The FT is not convinced about the tie-up between Uber and Starbucks. "As lazy coffee-drinkers suck down their fourth hand-delivered gingerbread latte of the day, some are bound to decide that it would be cheaper, quicker, healthier, and more sociable to saunter round the corner to the café where the drinks were prepared." (The Financial Times £)
UK Inflation is set to fall to its lowest level in 20 months as the drop in the oil price feeds through to savings at the petrol pump. (The Times £)
A core measure of US retail sales surged by the most in a year in November as falling gasoline prices emboldened American consumers to spend freely elsewhere. (The Financial Times £)