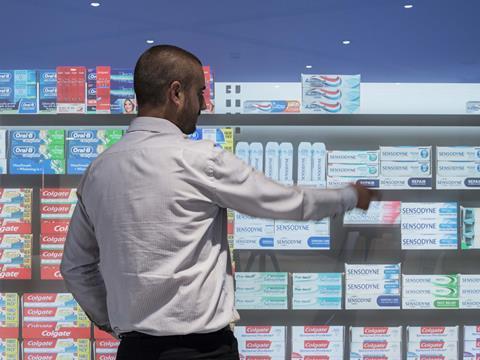 Unilever is pursuing an audacious deal for GlaxoSmithKline's consumer arm after tabling a bid worth £50bn (The Times £). GlaxoSmithKline has rejected a £50bn bid from Unilever to acquire its consumer health joint venture with Pfizer, saying it "fundamentally undervalued" the business and its future prospects (The Financial Times £). GlaxoSmithKline has rejected three Unilever offers to buy its consumer goods division, including one worth £50bn (The BBC).
GlaxoSmithKline and Pfizer are holding out for an improved bid of at least £60bn for their consumer healthcare joint venture, bolstered by shareholder opposition to Unilever's £50bn offer (The Financial Times £).
Unilever might have to raise its offer for GlaxoSmithline's consumer healthcare division to as much as £55bn if it is to succeed in acquiring the operation, analysts suggested yesterday (The Times £).
Unilever's rebuffed £50bn takeover offer for GSK's consumer healthcare venture, which owns the Panadol and Nicorette brands, represents only a modest premium to its current value, according to some leading analysts, suggesting the drugmaker is right to hold out for a higher offer. (The Guardian)
GlaxoSmithKline's consumer arm could be thrust into a full-blown bidding war after it rejected three offers from Unilever at the end of last year. (The Daily Mail)
GSK banks on stronger offer for its consumer healthcare business – the drugmaker appears to be holding out for what would be one of largest ever deals in London after rejecting Unilever bids. (The Guardian).
Unilever will be forced to raise £14bn from investors or sell assets to fund any sweetened offer for GlaxoSmithKline's consumer healthcare business as the City cast doubt on the Marmite maker's surprise bid. (The Telegraph)
Will GlaxoSmithKline deal be worth it for Unilever, asks The Times. A deal would be one of the biggest in London's history, but it carries risks for both sides. "The risk for Unilever is that it is not able to generate sufficient synergies from any deal, or might struggle to push sales of GSK's consumer brands any higher." (The Times £)
GSK tilt is a takeover too far for embattled Unilever chief Alan Jope, writes Oliver Shah in The Times. "M&A on the scale of Unilever's bid for Glaxo's consumer business isn't what the market has been looking for. Jope may endure an awkward breakfast when trading begins tomorrow. I suspect Unilever shareholders will not react well." (The Times £)
Unilever bid for GSK's consumer division doesn't look compelling, but at least it has distracted attention from corporate wokery, writes Ruth Sutherland in The Mail. "It is not clear, though, whether Unilever, which has made three approaches, can afford to pay much more. In fact, it looks like quite a stretch already." (The Daily Mail)
Focus on the values that count, Terry Smith warns Unilever. It was just a few lines in his annual letter to fundholders but Terry Smith this week voiced a frustration beginning to be felt by many fellow shareholders in Unilever. The food and toiletries group had become obsessed with virtue signalling instead of addressing the fundamentals of its business, he suggested. (The Times £)
Asda's owners, the billionaire Issa brothers, are examining a multi-billion pound swoop for pharmacy chain Boots as tightening debt markets may threaten to scupper a potential deal (The Telegraph). Supermarket giant Asda is considering a takeover of high street stalwart Boots after its US owner Walgreens put the pharmacy chain up for sale (The Daily Mail). The American owners of Boots are seeking up to £7bn for the pharmacy chain as Asda's financial backers join a raft of private equity firms readying bids (The Times £).
A row is looming between WH Smith and its shareholders over plans to hand the retailer's boss a £550,000 bonus after influential City advisory groups expressed concern over its use of taxpayer-funded pandemic support (The Times £). The high street retailer WH Smith has been plunged into a major pay row with investors amid heightened tensions over boardroom rewards as Britain grapples with a deepening crisis over pressure on household bills (Sky News).
Fever-Tree has overtaken Schweppes as America's leading tonic water brand in a huge success for a UK firm (The Daily Mail). The official drink of the 1851 Great Exhibition at Crystal Palace has lost its fizz and, having ceded the No 1 position in Britain at the end of 2017, now it has emerged that for the first time in America Schweppes has been overtaken by the same mixer rival – Fever-Tree (The Times £).
Sainsbury's chief Simon Roberts vows to keep pace with Aldi and Lidl in food price wars. Roberts is focused on navigating the challenges presented by surging inflation — which he does not expect to be a short-lived phenomenon. (The Times £)
The former chairman and chief executive of supermarket chain Sainsbury's, Lord Sainsbury of Preston Candover, has died aged 94. (The BBC, Sky News, The Guardian, The Telegraph).
The Hut Group boss Matt Moulding has sold a distribution centre handed to him as part of a controversial arrangement that installed him as landlord to the online beauty retailer. (The Times £)
Prices for the most common type of recycled plastic have doubled in a year to hit fresh records as companies vie for limited supplies, threatening ambitious targets set out by drinks and consumer goods groups. (The Financial Times £)
James Watt once hurled stuffed cats from a helicopter over the City of London in a publicity stunt designed to lampoon 'fat-cat' corporate greed. Now he's preparing a charm offensive with the same pinstriped ranks of financiers as his craft beer business BrewDog heads towards a float on the stock market. (The Daily Mail)
Fortnum & Mason plans to enter the booming market for rapid food delivery and expand online and internationally after the pandemic severely affected sales at its flagship London store (The Financial Times £).
The BBC writes about how delivery apps created 'the Netflix of food ordering'. (The BBC)
The Telegraph looks at "how it all went wrong for Farmdrop" after the online grocer's collapse left small suppliers and customers out of pocket and empty-handed just before Christmas. (The Telegraph)
American retail sales have suffered their largest drop in ten months after rising inflation and supply shortages pushed prices sharply higher. (The Times £)