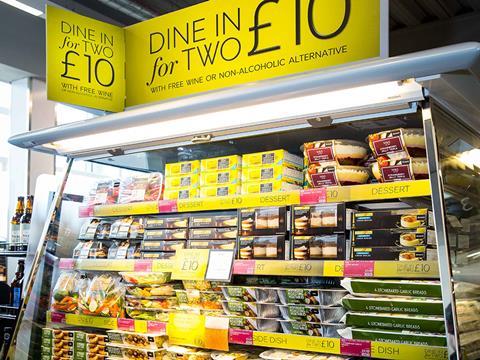 Marks & Spencer has slashed prices on almost 500 of its most popular food items as it scrambles to win back customers and arrest its declining sales. The High Street chain has dramatically cut prices across products such as chocolate eggs and legs of lamb, in time for Easter. (The Daily Mail)
PepsiCo hailed its Super Bowl marketing blitz a success on Wednesday after the food and snacks company reported its biggest sales increase in more than three years, sending shares to a record high (The Financial Times £). A rebound in sales of Pepsi and other sugary drinks helped Pepsico to post stronger sales in the first quarter than had been expected (The Times £). PepsiCo Inc's quarterly sales and profit beat Wall Street estimates on Wednesday, as the beverage maker's advertising and marketing push helped drive sales of its snacks, sparkling waters and low-sugar sodas globally (Reuters). Pepsico beat analysts' estimates on first-quarter sales and profit, boosted by higher demands for its low-sugar drinks, sparkling water and snacks (City AM).
Inflation unexpectedly remained flat last month due to a slowdown in price growth for food and drink, according to official figures (The Times £). Inflation was flat in March, as lower food prices offset higher fuel costs at the pumps new official statistics reveal today (The Daily Mail). Inflation has remained below the Bank of England's 2% target in March, giving consumers some unexpected relief. (Sky News)
Evian-owner Danone confirmed its outlook for 2019 this morning as the firm said it was investing in products that cater to alternative diets (City AM). Danone kept its forecasts for a further rise in sales and profits this year although weaker demand for infant formula products in China and a consumer boycott in Morocco weighed on first-quarter sales (Reuters).
Investors in the UK-listed arm of Domino's Pizza are piling pressure on its chief executive to take responsibility for a damaging dispute between management and the company's franchisees and step down from the business. (The Financial Times £)
Brewers throw weight behind non-alcoholic beer, writes The FT. As people drink less alcohol, industry eyes growth opportunity despite stigma. (The Financial Times £)
Amazon said that it will close its online store in China that allows the country's consumers to buy from Chinese merchants after facing difficulties competing with domestic champions Alibaba and JD.com. (The Financial Times £)