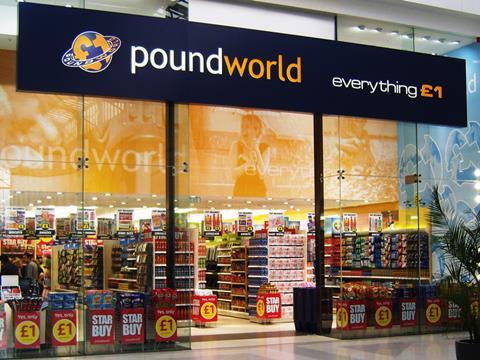 Private equity shows how to make a dog's dinner on the high street, writes The Times (£), citing Poundworld, Prezzo, Debenhams in the list of businesses that have confounded the buyout barons. For TPG, Poundworld is the latest in a series of high street humiliations. From its part in a controversial takeover of Debenhams in 2003 to the demise of the Republic fashion chain in 2013 and a restructuring of Prezzo restaurants this year, TPG has accrued what one analyst called a "spectacularly awful" track record in retail. (The Times £)
The Telegraph suggests we may have reached 'Peak Bargain Britain' as pound chains close and Aldi and Lidl expansion slows. The business model of the budget chains has appeared bulletproof up until now, but the fall of Poundworld has sown seeds of doubt. (The Telegraph)
Tesco has become a boring company once again as the momentum of its turnaround gains ground despite operating in a tough market, according to one of its shareholders. A private investor, speaking at the annual meeting of Britain's biggest grocer yesterday, said that dullness was no bad thing: "I like investing in boring companies and the entertainment at your annual meetings has certainly disappeared [as trading has improved]." (The Times £)
Alistair Osborne in The Times (£) writes: "Few chief executives would set themselves up as campaigners for their rivals' merger. So full marks to Tesco's Dave Lewis for giving it a go. What better way to boost the case for that Sainsbury's-Asda tie-up than showcasing the brilliance of his Booker deal?"
Meanwhile, Singing Sainsbury's boss still has to convince the critics, writes The Guardian. "Conventional economic theory suggests that one of the most effective ways of bringing down prices is competition, but his deal reduces it. The merger would create a much more powerful buyer, in an industry that has shown a fondness for squeezing suppliers hard enough to create a choir of sopranos."
Alex Brummer in The Mail writes of the threat of the online giants to retailers: "When the grocers look in the rear mirror they see Amazon, Google et al bearing down upon them. They are also cognisant of the huge advantage Silicon Valley has in mining consumer data even if, post-Cambridge Analytica, they are pledging not to share with third parties." (The Daily Mail)
Profits at Iceland have dropped by nearly a quarter after the supermarket chain was hit by supply chain problems during Christmas and a hefty interest charge (The Telegraph). Sales are rising at Iceland Foods but higher costs and a market slowdown mean its first-half earnings will be lower than this time last year (The Times £). Iceland has warned that earnings for the first half of this year will be lower than the previous year, due to a slowing grocery market and other factors (Sky News).
US drinks giant Coca-Cola is mulling a £3bn swoop for Horlicks after GlaxoSmithKline hoisted a "for sale" sign above the 145-year-old brand (The Telegraph). Coca-Cola mulls a bid for the 145-year-old malted milk drink maker Horlicks (The Daily Mail).
Households could be left up to £1,000 a year worse off because of Brexit trade barriers, a report will suggest. Global consultancy firm Oliver Wyman will say that under the most negative scenario of high import tariffs and high regulatory barriers the cost to the economy could total £27bn. (The BBC)
Heineken, the world's second largest brewer, has announced plans to pour £44m into the UK's struggling pubs. The group's British arm will invest the money into around 500 of the 2,900 pubs owned by its Star Pubs & Bars unit, with the aim of creating 1,000 jobs (The Financial Times £). The investment in its Star Pubs & Bars business is more than twice the £20 million it spent last year and follows the acquisition in August of 1,900 former Punch Taverns pubs for £1.1 billion (The Times £).
Losses continue to mount at crowdfunding site Crowdcube amid falling revenues and several high-profile failures. Britain's biggest crowdfunding platform has lost more than £16m since 2013. It reduced its losses in the year to last September to £4.7m, compared with £5.4m the year before, but revenues fell £200,000 to £3.8m, according to a report filed at Companies House last week. (The Times £)
A group of packaging industry veterans prepare to open a dedicated paper straw production line in Ebbw Vale, Wales, making hundreds of millions of straws a year for McDonald's and other food companies as they prepare for a ban on plastic straws in the UK (The Guardian). McDonald's will end the use of plastic straws in its British restaurants next year, after nearly half a million people called on the company to ditch them. (The Guardian)
The former chief executive of French retailer Carrefour will give up part of his departure package after coming under fire from unions, corporate governance specialists and the government over his pay. (The Financial Times £)
Multinationals operating in Brazil are counting the cost to their revenues following a nationwide trucker's strike that brought the country to a near standstill, disrupting supplies and hitting Latin America's largest economy. (The Financial Times £)