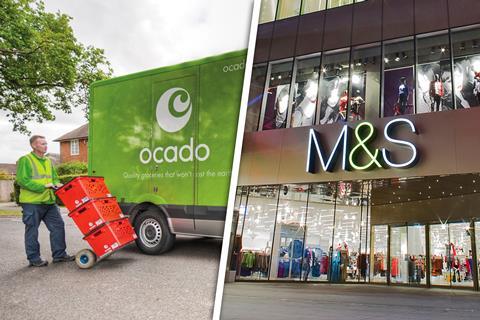 Ocado has claimed it could start delivering M&S groceries earlier than next September when it switches from its long-term partnership with Waitrose (The Telegraph). Waitrose, however, is in no rush to sever ties prematurely especially since it abruptly ended talks with start-up TDP to rival the service provided by its current partner (The Times £).
Ocado Retail, the new 50:50 joint venture with M&S, reported a rise of 11.4% in groceries revenue to £386m for the 13 weeks to the beginning of September. Melanie Smith, Ocado Retail's chief executive, said the performance proved Ocado's "resilience" in the wake of the devastating Andover, Hampshire, fire in February (Financial Times £).
Marks and Spencer "is still in the soup" despite its food delivery tie up with Ocado, says Lombard in the Financial Times (£), which reports the food delivery deal will generate just £10.6m in free cash flow by 2024. Ocado's first results from the joint venture with M&S said the retailer's full product list would be on the internet by next September. The report says M&S's problems may be far from solved, but nor are Ocado's – yet.
Ocado bosses have warned of a shortage of parma ham, raspberries and mozzarella if there is a no-deal Brexit. Products such as olive oil and chopped tomatoes could be stockpiled (The Daily Mail).
The latest market snapshot from Kantar shows the Co-op is stealing market share from the big four in a three-month period in which the grocery market returned to growth, helped by £1.3bn spent during the August Bank Holiday (The Daily Mail). Sainsbury's was the best performing of the big four supermarkets, according to industry data for the latest 12 week period, as the UK grocery market returned to growth (City AM).
There is no evidence that Britons worried about the possibility of a disorderly departure from the European Union on Oct. 31 are stockpiling essential products, market researcher Kantar said on Tuesday (Reuters).
Companies across Britain have begun stockpiling booze to keep the alcohol flowing at Christmas because of concerns about Brexit, a survey from the Chartered Institute of Procurement and Supply (Cips) shows. Cips found more than a fifth of firms had taken measures to import stocks earlier than usual in case of a no-deal Brexit. Wholesalers, especially, had started stockpiling imports form the European Union rather than waiting until November as they usually would, said Cips (The Guardian).
3G Capital has cut its stake in Kraft Heinz. Securities filings show the Brazilian-US investment group reduced its stake from about 22% to 20% after selling $731m of stock this week. Individual 3G partners bought about $200m of stock at the same time, led by 3G Capital founding partner Jorge Paulo Lemann, who said he believed in the company's potential for a turnaround (Financial Times £).
Climate change could lead to food shortages in the UK, MPs on the Environmental Audit Committee have warned. Mary Creagh, its chair, said the UK was facing a food security crisis, which was exacerbated by uncertainty over the UK's future trading position with the EU and the rest of the world (Sky News).
Established businesses need not always feel as terrified as Amazon as they sometimes seem, says Lex in the Financial Times (£). It says plenty of the behemoth's ideas have fallen by the wayside over the years and any new product from Amazon tends to be just one of many small bets. It notes that two years ago Amazon spent $13.4bn buying Whole Foods, which sparked a share-price fall across the sector, but if there is a plan, then Amazon has kept it quiet. There has been no revolution.
Savvy shoppers game the loyalty cards system to collect the maximum amount of points, says the Financial Times (£) in an opinion piece headlined: "Loyalty cards: how to make the most of them".
Starbucks is rolling out its coffee delivery service across UK cities which City A.M. says will enable customers to "wake up and – immediately – smell the coffee". It has linked with Uber Eats to people in 11 UK cities can order to their doorstep via the app.
Consumer group Which? and Natalie Ceeney, who led the Access to Cash review this year, have written to chancellor Sajid Javid urging the government to guarantee the public can withdraw and spend physical money. The letter comes after research showed cash machines vanishing from poorer areas more quickly than from richer ones (The Times £). Calculations from Which? suggest hundreds of free-to-use ATMs are closing every month across the UK in a report that breaks down the loss by parliamentary constituency (BBC). Nearly one in 10 free cashpoints has closed or switched to fee-paying after network funding changes were revealed (Sky News).
Shoppers preparing to splash out for Christmas are at risk of higher bills because credit card interest rates have reached their highest in at least 13 years, says Moneyfacts (Sky News).
Walmart's revamped credit-card programme with Capital One Financial Corp has one big goal – to boost e-commerce. The cards will offer more rewards with the mobile checkout app and cash back for online orders will increase to 5% from 3% from 24 September (Bloomberg).
New York became the second American state to order a ban on flavoured e-cigs on Tuesday. The prohibition will take effect on 7 October. New York follows in the footsteps of Michigan. The US Centers for Disease Control and Prevention says nearly 400 people around the US have suffered a lung illness potentially related to vaping and six have died (Reuters).
Andrew Tinkler, the ousted former chief executive of Stobart Group, is reportedly preparing to pounce on Eddie Stobart Logistics. City A.M. says it would "tee up" a battle between Tinkler's vehicle and funds managed by DBAY Advisors, which has said it is also interested.