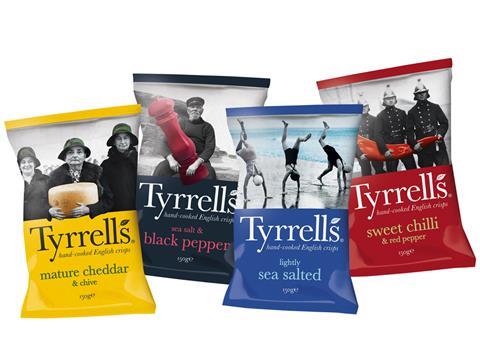 Two mega deals in the US are featured in the papers on a quiet morning for food and drink as things wind down before Christmas. Tyrrells and Kettle Chips on the menu as Hershey and Campbell snap up snack food rivals, The Telegraph says. The Financial Times also combines the two stories into one package. It writes that the moves by Hershey, which paid $1.6bn for Amplify, and Campbell's, which paid $4.9bn for Snyder's-Lance, are a reaction to cooling demand for their trademark food and snacks.
Sherry and English fizz will be toast of the town this Christmas, Majestic Wine boss Rowan Gormley tells The Mail, as the tipples fly off the shelf.
Morrisons will today appear on a register unveiling which FTSE businesses have faced major investor revolts this year, The Telegraph reports. The supermarket suffered an investor backlash this year over its plans to bump the pay of chief executive David Potts.
Don't let this British success go up in smoke, pleads Matt Ridley in The Times. Health organisations now agree vaping is far less harmful than smoking yet it continues to be demonised and restricted, he writes.
In wider retail, the papers all dive into the ongoing crisis at Toys R Us. The Guardian says Toys R Us UK faces collapse with loss of all 3,200 jobs. Pension Protection Fund's refusal to back restructuring unless retailer pays £9m into fund could push chain into administration, the paper adds. The Telegraph understands that the Pension Protection Fund is demanding the funds within two months in an attempt to secure the future of the pension scheme should Toys R Us's rescue plan fail. The amount is equal to that which would be put into the pension scheme over the next three years. Toys R Us is trying to push through a company voluntary arrangement (CVA), an insolvency process used by retailers to close loss-making stores, in an attempt to revive profits in its British business, The Times writes.