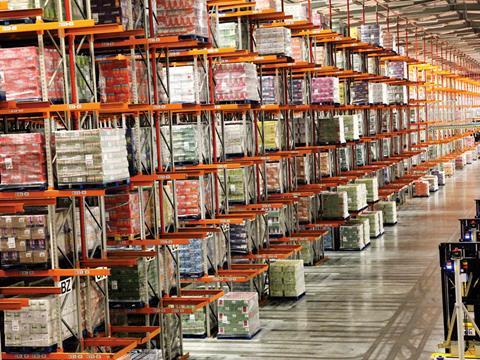 Britain is running out of food warehousing space as retailers and manufacturers rush to stockpile amid growing fears of a no-deal Brexit, it has emerged (The Guardian). Frozen and chilled food warehouses, storing everything from garden peas to half-cooked supermarket bread and cold-store potatoes, are fully booked for the next six months, with customers being turned away, industry representatives said.
The former chairman of Hovis and Thorntons is on the cusp of keeping production of Colman's mustard in Britain, in a move that will save scores of local jobs (Telegraph). Food industry veteran Paul Wilkinson has secured funding to build a mustard mill in Norfolk that sources said would remove the threat of the manufacture of the famous condiment moving overseas. The deal with mustard and mint farmers, known collectively as Condimentum, will see a new £10m factory built near Norwich (Daily Mail).
Kimberly-Clark has decided to call off the sale of its European tissue business, which includes popular household loo roll brand Andrex, after the unit fetched far less than $1.2bn price tag it hoped to get (Financial Times £). According to people close to the situation, the US group is expected to call off the auction process this weekend. The sale attracted interest from private equity firm Centerbridge Partners and a consortium bid from Goldman Sachs Capital Partners and PAI Partners.
Childrens' health campaigners and teachers have joined forces to urge the government to set its proposed ban in England on the sale of energy drinks to youngsters at 18 rather than 16 (The Guardian).
A food developer backed by Bill Gates, above, that makes plant-based meat substitutes is poised to raise US$100m (£77.9m) when it floats (The Sunday Times £). Beyond Meat, which makes meat-like products from ingredients including pea protein and potato starch, has filed its intention to list on New York's Nasdaq exchange.
Hotel Chocolat bosses launched a passionate defence of their chairman last night amid concerns of a shareholder revolt (Daily Mail). City adviser Glass Lewis has told investors to vote against Andrew Gerrie at the chocolatier's AGM, saying he is not independent enough to be chair because he co-owns a joint venture. Gerrie has a 53.5% stake in beauty products firm Rabot 1745 while Hotel Chocolat has 34.5%.
The Gambling Commission has begun the hunt for bidders to take over the National Lottery operating licence, putting Camelot's long-term monopoly under threat (Telegraph). Camelot's current licence was last renewed in 2009 and is set to end in 2023.
The £3.9bn sale of Costa Coffee to Coca-Cola could hit baristas' retirement savings (The Sunday Times £). The Pensions Regulator has been warned that thousands of low-paid staff at Costa owner Whitbread have lost out on hundreds of pounds in tax breaks because of the type of pension they are enrolled in. Henry Tapper, a director of pension firm First Actuarial, believes that once Coca-Cola takes over Costa's scheme, workers will have their losses locked in, leaving them unable to claim them back.
Co-op's own-brand champagne is as good as Mumm Cordon Rouge and better than Moët & Chandon, according to tests by Which? naming it as the best value deal for Christmas bubbly (The Guardian).
Barbecued bugs are going on the shelves of British supermarkets as Sainsbury's becomes the first big UK grocer to stock edible insects (The Guardian). The retailer will start selling roasted crickets – described as "crunchy in texture with a rich smoky flavour" – in 250 of its stores from today (Monday 19 Nov), capitalising on the growing prominence of bush tucker in the global warming debate (Sky News).
Britain's battered high streets will take another pounding this week with retail experts predicting that the Black Friday phenomenon will push even more shoppers online and slash footfall during the crucial pre-Christmas sales period (The Guardian). The Springboard group, which tracks shopper numbers at 4,500 locations across the UK, said it expects footfall will drop by 3.7% compared with Black Friday 2017, and by 2.7% over the weekend as a whole.
Shoppers should choose organic or high-welfare meat to combat the rise of antibiotic-resistant bugs, England's chief medical officer has urged (The Times £). Dame Sally Davies has warned that if antibiotics stop working, society faces an "apocalyptic" scenario in which treatments including chemotherapy and hip replacements become impossible and common infections kill.
Rio Tinto has moved to burnish its ethical credentials with a deal to supply Nespresso with responsibly sourced aluminium for its coffee pods (Financial Times £). Under the proposed agreement Nespresso, which is owned by Swiss consumer goods group Nestlé, will work with its capsule manufacturers to make sure they use metal certified by the Aluminium Stewardship Initiative.
Peanut allergy sufferers have been given new hope following the results of the largest study of its kind in the world (Telegraph). The landmark trial found that participants not normally able to tolerate exposure to even a tenth of a single peanut could eventually cope with two whole peanuts.
Schools are feeding children halal meat but not telling parents that it comes from animals that had their throats cut while they were still conscious (The Times £). At least 140 schools, including some that are Christian, serve halal meat from animals that have not been stunned before slaughter.
Luke Johnson, the executive chairman of café chain Patisserie Valerie, has hired a former top investigator at the UK's Serious Fraud Office as his lawyer (Financial Times £). John Gibson is the London-based head of white-collar crime and investigations at US law firm Cohen & Gresser.
"Big Tobacco prepares to fight proposed ban on menthol cigarettes," writes Alistair Gray and Andrew Edgecliffe-Johnson for the FT. "So far, the tobacco industry has fought hard — and successfully — to stall the menthol crackdown. RJ Reynolds contributed almost $12m to fight a ban in San Francisco, according to San Francisco Ethics commission filings."