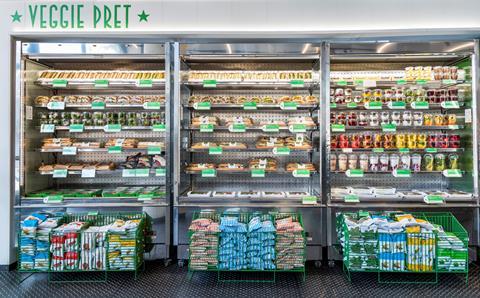 Pret A Manger chief executive Clive Schlee will step down in September to be replaced by Pano Christou, chief operating officer (Financial Times £, The Telegraph). The Daily Mail notes that Christou joined the company nearly two decades ago as an assistant manager. Schlee, who will become a non-executive director, said it was a good time to hand over to his successor after the completion of the Eat acquisition today and the rollout of its new allergy plan following the death of 15-year-old Natasha Ednan-Laperouse (The Times £). Schlee told ITV News in May that the shock of her death had generated the biggest change in company policy in Pret's 30-year history.
Can Mike Coupe, chief executive of Sainsbury's, serve up a surprise tomorrow when he unveils the group's first quarter results, wonders The Independent. The newspaper says the shares have been dining on Pedigree Chum rather than Taste the Difference in recent months. The report describes the shares – languishing at close to 30-year lows – as "these dogs of the grocery sector".
Losses at Ferrero-owned Thorntons have grown to £38.3m in the year to August 31 compared with £31.1m a year earlier on sales down 3.3% to nearly £140m, reports The Daily Mail following up on The Grocer's story. It incurred £2.3m of costs as it continued to shut stores and restructure.
The US has added more goods to its list of EU products that it could hit with retaliatory tariffs in the trans-Atlantic subsidy dispute between Boeing Co and Airbus SE. They include cherries, meat, cheese, olives, pasta and some types of whisky (Bloomberg).
The move comes as a new round of trade talks with China and the US get under way (Bloomberg). US president Donald Trump said any deal would need to be somewhat tilted in favour of the US (Reuters). A truce between the US and China lifted share prices worldwide (The Times £).
Amazon has introduced machine-learning technology in more than 20 US fulfilment centres to track good which robots can easily retrieve (Financial Times £). The technology negates the need for workers to scan barcodes on each product and in each bin where the products are stored. Artificial intelligence cameras and scanners automatically track which product go into which bins – a process with which the company says has had a significant impact on efficiency.
JAB Holdings-owned cosmetics producer Coty, which sells mass-market consumer make-up brands, such as Max Factor, has taken a $3bn writedown in a four-year restructuring (Financial Times £). Coty will spend $600m over the next four years as part of the turnaround plan announced yesterday. Sky News says the Rimmel owner is struggling to integrate more than 40 brands it bought form Procter & Gamble for $12.5bn in 2015.
A temporary boost from Brexit stockpiling has faded and activity among manufacturers sunk to its lowest level in six years, according to the HIS Market/CIPS manufacturing purchasing managers' index (The Times £). The index fell from 49.4 in May to an overall reading of 48 in June. The Federation of Small Businesses has warned, meanwhile, that the Brexit impasse has left small companies "hamstrung by political uncertainty and noted a "sustained slump" in confidence (The Times £). Is a rhetoric recession on the way, wonders The Independent, noting that Brexit is being blamed for dismal manufacturing numbers. It warns worse could be coming as fear of a no-deal cliff mounts. Sourcing skilled staff has proved a "major barrier" to growth. Separate research has highlighted the problem of late payment for small firms.
Figures from the British Chambers of Commerce today suggest UK economic conditions remain decidedly downbeat (The Daily Mail), (The Independent). Sky News reports that Bank of England data on Monday showed lending to British consumers rose by its weakest pace in more than five years in May, adding to signs of a slowdown.
Amazon will increase its staff count in France by 1,800 to take it to 9,300 permanent employees by the end of this year (Reuters).
Activist investor Elliott is setting its sights on Majestic Wine, reports The Daily Telegraph.