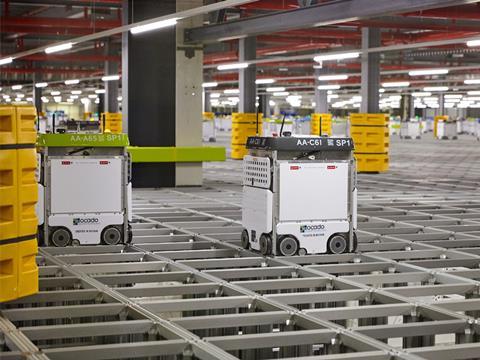 Ocado's strategy of selling its grocery ecommerce knowhow worldwide is under threat after a Norwegian rival has claimed the company has copied its technology and infringed its patents (The Financial Times £). Ocado has been accused of copying the idea for its world-leading robot warehouse technology from a competitor and supplier in Norway which is suing for patent infringement (The Telegraph, The Daily Mail, Sky News).
Ocado shares went on a roller-coaster ride yesterday as the online supermarket was accused of stealing robot technology from a Norwegian company. (The Daily Mail)
Nils Pratley in The Guardian writes that Ken Murphy arrives as chief executive of Tesco with advice flying at him from all sides. "Yet the biggest challenge seems obvious: how to make decent returns from online deliveries… All the supermarkets have added online capacity at impressive speed during the pandemic, not least Tesco. But their share prices are lowly rated, in part, because the growth looks low-margin at best. Customers don't mind, obviously, but the shareholders do. It's the pressing problem for a new boss." (The Guardian)
PepsiCo is on track to deliver about the same full-year revenues that it had expected before coronavirus shut down much of the world economy, helped by a recent recovery in sales of its soft drinks in corner shops and petrol stations. (The Financial Times £)
Goldman Sachs' decision to dump Britvic from its list of top stocks yesterday sent the shares down another 6% to 772p. Goldman, instead, advised its clients to instead pour their savings into a different drinks group, Coca-Cola HBC, which it thinks offers "more upside". (The Times £)
The government's £500m subsidy for restaurant and pub meals failed to improve the finances of the UK's hospitality and catering industries in the third quarter, according to a business survey. (The Guardian)
Pub operators are lining up steep job cuts after the government's 10pm curfew caused drinks sales to plunge by more than a third (The Financial Times £).
The £100 million-plus auction of Hovis received a boost today after the baking group circumnavigated the impact of the coronavirus crisis to report an increase in demand. (The Times £)
A record amount of warehouse space was let in the past three months as online retailers sought to increase capacity to meet demand in the pandemic. (The Times £)
Amazon says close to 20,000 of its staff have tested positive for coronavirus or are presumed to have had Covid-19, as it seeks to dispel concerns over workforce safety and a lack of transparency over outbreaks. (The Financial Times £)
The rolls used in Subway's hot sandwiches contain too much sugar to be considered bread, according to Ireland's Supreme Court. Ireland's highest court made the ruling in a case about how the bread is taxed. (The BBC)
Marks & Spencer has started selling an independent eco-fashion brand on its website as part of a plan to reinvigorate its struggling clothing arm. (The Guardian)