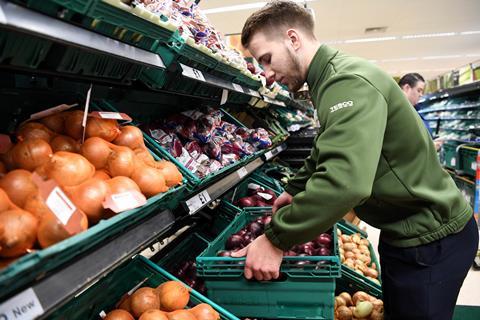 Hundreds of Tesco staff made redundant last month were underpaid or overpaid, prompting the supermarket to ask some to return money. Dave Lewis, Tesco's chief executive, apologised yesterday for the "very regrettable" error (The Times £). Tesco boss Dave Lewis has apologised for having both underpaid and overpaid hundreds of workers recently made redundant, casting a shadow over his plans for the business (The Telegraph).
Looking at the wider Tesco plans following its capital markets day on Tuesday, Ben Marlow in The Telegraph writes that with turnaround behind him, Tesco boss Dave Lewis has set his sights on phase 2. "At the moment, a hatful of ideas is on the table and Lewis is being guarded about which will be pursued, but a number of ideas sound like possible game-changers if executed properly."
Marks & Spencer was feeling the pressure after Tesco unveiled its plan to launch a range of high-end stores. Just nine months ago, Tesco opened discount retailer Jack's. Now it is targeting wealthier shoppers too, mulling a new chain of Tesco Finest shops (The Daily Mail). Shares in supermarkets have fallen sharply after Tesco said it was considering plans for a new chain of high-end convenience stores (The BBC).
Ocado has sold a beauty business to Next as it looks to focus on its tie-up with Marks & Spencer. (The Daily Mail)
The UK High Street is under yet more pressure with Bathstore, the UK's biggest bathroom specialist, is the latest retailer facing heading towards administration and putting hundreds more high street jobs at risk (The Guardian, Sky News), while Monsoon Accessorize is landlords' support for rescue plan (The Guardian, Sky News).
US retailers file for bankruptcy at swift pace in 2019, writes The FT, noting that by volume 2019 so far has already outpaced the comparable year-ago period, with companies like footwear retailer Payless and US children's clothing chain Gymboree filing for bankruptcy. (The Financial Times £)
Are your tinned tomatoes picked by slave labour, asks The Guardian in an in-depth report that details how the Italian mafia makes millions by exploiting migrants. (The Guardian)
Young drinkers lead the trend for alcohol-free beer, writes The BBC. According to one report, UK sales of low and alcohol-free beers jumped 28% in the year to February 2019, compared with the previously 12 months. (The BBC)
Big Tobacco seeks to recast with tech-focused workforce, writes The FT. As companies look to vaping and heated devices they are having to work hard to recruit talent. (The Financial Times £)