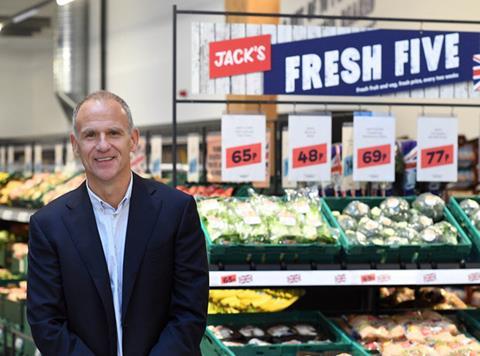 "Drastic Dave brings back Slasher Jack" is the headline in The Times (£) as the papers focus heavily on the launch of Tesco's discount proposition to rival Aldi and Lidl. "From polished concrete floors to cheaper fridges, Britain's biggest grocer has put together a cut-price chain of its own to halt the march of the once seemingly unstoppable German discounters," writes The Times (£). Tesco has vowed to be the "cheapest in town" as it threw down the gauntlet to Lidl and Aldi (The Telegraph, The Guardian). The Daily Mail says the shops are "for shoppers who prefer smaller stores". The Finanical Times (£) notes Tesco plans to open 10 to 15 Jack's stores during 2019.
"Aldi and Lidl won't be scared by Tesco's new discount Jack's", writes Nils Pratley in The Guardian, arguing the supermarket giant is wise not to bet the farm on its 'rough copy of Aldi' – the real battle will be making a profit.
Tesco will struggle to jack up pressure on discounters, writes The Telegraph's Ben Marlow. "Lewis has made impressive strides in turning round Tesco's fortunes… Squaring up to Aldi is a different undertaking altogether. So, can Jack's tip the balance? In its present form, it's hard to see." (The Telegraph £)
Separately, The Telegraph asks "Can Tesco's Jack's chain beat Aldi and Lidl?" (The Telegraph £), while it also has a photo montage "inside Tesco's new discount chain" (The Telegraph).
Wide aisles and new labels – Sky News looks how Tesco is taking the battle to Aldi and Lidl with Jack's.
The Times (£) noted some sardonic observations from former Waitrose boss Mark Price, who mused ahead of the grand reveal: "I bet it's a shop which sells food. Just a hunch… Shelves, fridges, freezers, somewhere for baskets and trolleys at front, somewhere to pay. Again just a hunch."
The Competition and Markets Authority is to move to a further in-depth investigation into the proposed merger between Sainsbury's and Asda (The Telegraph). A full-blown probe into the £14billion tie-up of Sainsbury's and Asda has been launched after fears were raised over stores that overlap in hundreds of local areas (The Daily Mail). The competition regulator will also consider the impact on fuel, general merchandise such as clothing and the joint entity's increased buying power over suppliers (The Financial Times £).
Alex Sebastian in The Daily Mail writes: "The supermarket wars are going nuclear – but will shoppers end up being collateral damage or as the real winners?" He argues there is a danger of supermarkets competing too hard and having to scale back their presence and a threat to suppliers by the squeeze on them.
Another major investor in Unilever is preparing to vote against the plot to axe its UK HQ amid a growing backlash. Fund managers at Standard Life Aberdeen are understood to have serious concerns about the Marmite maker's plans to abandon Britain for a sole legal base in the Netherlands. (The Daily Mail)
Ruther Sutherland in The Daily Mail writes that Unilever boss Paul Polman's is facing a "Brexit dilemma". "It is legitimate to harbour doubts as to whether, in a post-Brexit world and with a centre of gravity that has moved to Holland, [Unilever's] level of commitment to the UK will continue over the longer term." (The Daily Mail)
A bidding war has erupted for Horlicks after it was put up for sale by owner Glaxosmithkline. Some of the world's biggest consumer goods giants – including Coca-Cola, Nestle and Unilever – this week tabled offers for the malt drinks maker which dates back to 1873. (The Daily Mail)
Starbucks' European business paid an effective UK tax rate of just 2.8 per cent in the year to the end of October 2017 after a payment from another part of the group boosted profits. (The Financial Times £)
A series of websites, an app and a YouTube channel promoting Kinder chocolate and toys have been banned in the UK for aiming junk food advertising at children. (The Guardian)
British American Tobacco has identified an unnamed lead candidate to succeed chief executive Nicandro Durante, who will retire next year after eight years at the helm, as the company navigates industry upheaval (The Financial Times £). The chief executive of British American Tobacco is preparing to step down in the wake of a sector-wide share price decline prompted by investor concern over slowing sales growth (Sky News)
UK inflation unexpectedly rose to the highest level in six months in August, pushed up by the rising cost of items including theatre tickets, package holidays, and high street shops launching their new-season autumn clothing ranges (The Guardian). Families are facing a fresh squeeze on their budgets as inflation soars to 2.7 per cent - driven up by the higher cost of transport and clothes (The Daily Mail). Inflation jumped unexpectedly to 2.7% in August, its highest level in six months, shocking economists that had expected a drop (Sky News)
Staff at JD Wetherspoon, McDonald's and TGI Fridays are to strike next month in an unprecedented action by employees in the hospitality sector, where a campaign to recruit new trade union members is gathering pace among workers who have traditionally not been organised. (The Guardian)
Australian supermarket giant Woolworths has temporarily removed sewing needles from its shelves as the country faces a strawberry safety scare. Last week, Australians were warned to cut fresh strawberries before biting into them after several people found sewing needles hidden inside the fruit. (The BBC)