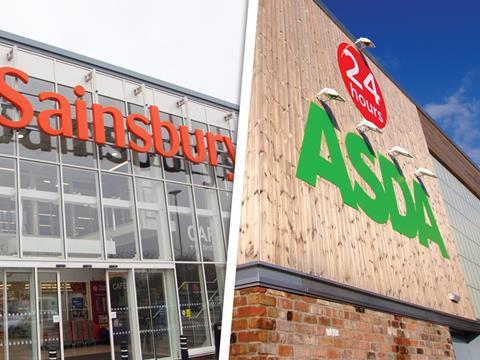 "MPs pour scorn on Sainsbury-Asda merger" is the headline in The Times (£) after The bosses of J Sainsbury and Asda were accused of lying to MPs, "talking baloney", providing "Mickey Mouse" figures and pursuing a merger that could "cut the throats" of suppliers. The bosses of Asda and Sainsbury's have been accused of using "mickey mouse numbers" by MPs, who also dismissed the two grocers' promise to continue running both brands separately after a merger as "baloney" (The Guardian). Bosses at ASDA and Sainsbury's have been accused of planning to 'cut the throats' of small suppliers with a £14billion merger that will create a new mega-supermarket (The Daily Mail).
"MPs question 'baloney' over Sainsbury's-Asda merger," writes The FT, which writes: "Executives from J Sainsbury and Asda pledged that small suppliers will not suffer as a result of their planned merger, but they frustrated MPs on the Environment, Food and Rural Affairs select committee by refusing to be drawn on the detail about which prices will fall and who will pay for the reductions." (The Financial Times £).
Sainsbury's chief executive has admitted that the UK's competition watchdog will probably demand store disposals in order for the supermarket's merger with Asda to be approved, as he was grilled by a committee of MPs on the details of the deal (The Telegraph).
The FT's Lombard column notes that some of these objections miss "a more pertinent point". "For all the genuine concern about suppliers, the CMA's remit is to consider solely the effect of mergers on consumers. Its recent approval of the supplier-squeezing Tesco-Booker deal proves as much. It listens to shoppers in the sausage aisle, not to men out standing in their fields." (The Financial Times £)
Sainsbury's takeover of Asda could do with some rigorous scrutiny, writes The Guardian's Nils Pratley. "Let us hope the Competition and Markets Authority, led by former MP Andrew Tyrie, who knew how to run a select committee with more bite, secures clearer answers. By any traditional measure, Sainsbury's takeover of Asda looks anticompetitive." (The Guardian)
Ocado shares climbed 5.5 per cent on Wednesday after Peel Hunt argued the company has the potential to become the "Microsoft of Retail" by transforming itself into a core platform for the sector's logistics. (The Financial Times £)
Imperial Brands had a smoking day yesterday, as the tobacco company was rewarded for its drive into cigarette alternatives. (The Daily Mail)
Poundworld has started a closing down sale across its entire estate of shops - but says it still hopes to survive. The retailer, which went into administration earlier this month, sent a memo to staff saying that "trading has been difficult for a substantial period of time" and confirming that "stores are to commence 'closing down' sales." (Sky News) Staff at discount retailer Poundworld have been told "closing down" sales will start on Thursday. However, administrators Deloitte stressed that no stores were "definitely" closing and that the search for a buyer continued (The BBC).
A former digital boss at Marks & Spencer has told BBC Radio 5 Live that the retail chain should "seriously" look at a tie-up with Amazon. Marcus East, who worked under former chief executive Marc Bolland, said it needs to "tackle the digital space". (The BBC)
The European Union will target €2.8 billion of American products from speedboats and motorcycles to orange juice and cigarettes as it hits back tomorrow against President Trump's steep tariffs on steel. (The Times £)
Britain is facing a shortage of meat, salad and ready meals – as well as a World Cup beer drought – as stocks of carbon dioxide used by the food and drink industry run low (The Guardian). Supplies of Heineken's John Smith's Extra Smooth and Amstel kegs have been hit by an industry-wide shortage of carbon dioxide (The BBC).
Manufacturing bounced back in the second quarter of this year, suggesting that a lull in activity may be over. The biggest rises coming from food, drink and tobacco production and mechanical engineering. (The Times £)
BP scrapped a proposed A$1.8bn (US$1.3bn) takeover of Woolworths' petrol and convenience store business in Australia on Thursday following opposition from competition authorities. (The Financial Times £)
Starbucks is in dire need of a pick-me-up. The coffee chain's shares hit a one-and-a-half year low on Wednesday, a day after it said it plans to close about 150 US stores next year amid sluggish sales growth (The Financial Times £). S&P has lowered its rating on Starbucks, saying that the coffee retailer's plans to boost shareholder returns to $25bn by 2020 even as it confronts slowing sales growth could prompt it to issue more debt (The Financial Times £).
Twice as much Belgian beer is being exported as consumed domestically, with drinkers increasingly turning their backs on one of Belgium's most celebrated products. (The Guardian)
Walmart closed a sale of bonds to finance its $16bn acquisition of Indian e-commerce company Flipkart on Wednesday, joining the growing list of investment-grade issuers adding leverage to their balance sheets to finance deals. (The Financial Times £)