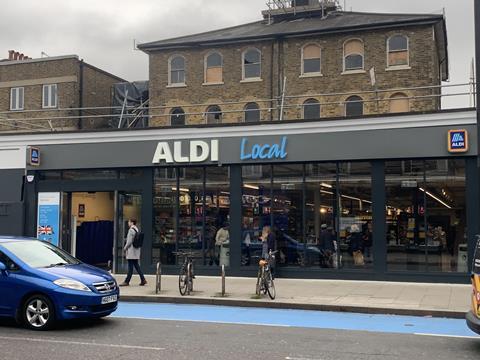 Aldi has fired its latest salvo in the battle for Britain's food shoppers with the launch of a smaller high street brand (Telegraph £). The discounter opened its first "Local" store in Balham, south London, last week. The shop is aimed at urban consumers and stocks 300 fewer products than the 1,800 found in the average Aldi store. An Aldi spokesperson said the new branch is not a move into the convenience market, but a way for "shoppers to distinguish between its smaller city stores in London and the conventional sized Aldis" (The Sun). If successful, the concept will be copied across the UK, although the German-owned discount chain denies its move into convenience stores is designed to compete directly with Tesco Express and Sainsbury's Local (Daily Mail).
Inflation is rising again after five months of decline in a trend that threatens to renew the squeeze on living standards (The Times £). Consumer prices rose by 1.9% in February compared with a year earlier, up from 1.8% in January and above forecasts for it to remain unchanged. Higher food, alcohol and tobacco prices led to the increase but economists warned that far larger rises were to come.
Knife crime is a "significant concern" retail businesses say, as it is revealed that 115 shop employees are attacked at work every day (Sky News). The British Retail Consortium's (BRC) annual Retail Crime Survey found that knives "are seen as the most significant type of weapon" used in these attacks.
General Mills has become that rarest of beasts — a packaged food company that is raising, rather than cutting, its guidance (Financial Times £). The company behind Cheerios cereal, Häagen-Dazs ice cream and Yoplait yoghurt is boosting its profit outlook for the year as it reaps the benefits of price increases and the addition of higher margin pet food sales following its acquisition of Blue Buffalo last year.
Manchester United's official nutrition partner has begun stockpiling essential ingredients for protein bars and other products after Brexit (The Times £). Science in Sport, which also supplies the pentathlete Katarina Johnson-Thompson, said that it has built up extra supplies worth £200,000. The nutrition specialist has welcomed Sir Jim Ratcliffe's controversial swoop on cycling's Team Sky, believing the move could offer a springboard into new markets (Telegraph £).
The company that sells bakery products under brands including Paul Hollywood has hired the mastermind of the Tyrrells crisps success story in a bid to boost sales (Telegraph £). David Milner, who was chief executive of Tyrrells from 2010 to 2016, has been appointed chairman of Carrs Foods.
"Kate Swann is the one everyone wants," one well-connected source said when discussing potential candidates to replace Kingfisher's outgoing chief executive (The Times £). The owner of B&Q may have to fight hard if it wanted to get her, as the highly regarded and soon to be departing chief executive of SSP, the transport catering group, has been linked to a host of other high-profile jobs.
Small businesses are resigned to whatever happens with Brexit as they do not have the resources to plan for a no-deal scenario, according to the Federation of Small Businesses (Sky News).
Greenlane, a US-based supplier of vaping products, filed for an initial public offering on Wednesday, in a move that will test investor's appetite for the industry as regulatory concerns rise and a series of offerings compete for fresh capital (Financial Times £).