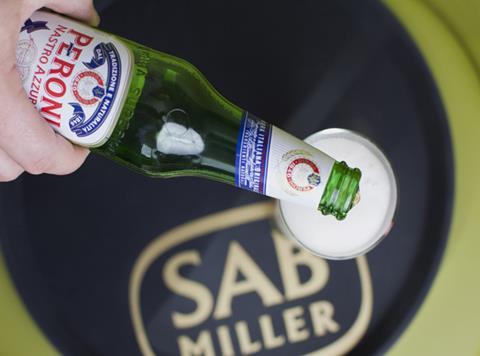 The Financial Times leads with an update of the race to buy unwanted SABMiller brands Peroni, Grolsch and Meantime. The paper writes that Asahi and Chang brewer Thai Beverage have made it through to the next round of bidding, along with a host of big private equity firms, in the €2.5bn auction. The brands are being sold to ease regulatory concerns over AB InBev's £70bn takeover of its main rival SABMiller.
It comes as The Times notes that SAB's latest trading update made the case for AB InBev's £71bn takeover of the brewer after revenues surged in the third quarter in Africa and Latin America – both areas where AB InBev does not have a presence.
The FT quotes an analyst at Morningstar who said the 8% growth in volumes in Africa provided validation for the mega-merger. However, the paper pointed out that SAB's strong sales in emerging markets were undermined by currency weakness.
The Daily Mail has a short article reporting that hedge funds are taking bets shares in Royal Dutch Shell and Sainsbury's will continue to fall after suffering suffer "disastrous starts" to 2016. The supermarket, which is already the most shorted stock on the FTSE 100, has seen its share price fall 9% so far in 2016.
The third quarter results of Premier Foods also gets some column inches as The Times writes that the UK's sweet tooth saved the supplier as sales in the Mr Kipling and Cadbury cakes division rose to offset falls of 2.7% in the grocery business. Premier's shares crashed 7% as a result of the trading update to lead The Mail to write the business was pinning its hopes on the new Paul Hollywood home-baking range in Q4 after an "exceedingly poor" share performance.
The Guardian has an update on how flooding in Carlisle has affected production of some of the nation's favourite biscuits. Flood damage has halted production of Carr's water biscuits, as well as McVitie's ginger nuts, Crawford's custard creams and shortcake, with supermarkets warning that stocks are running low.
Finally, The Independent and The Mail have reported on The Grocer's exclusive from earlier this week that Asda's restructuring may lead to the axing of free tea and toast for staff along with canteens.