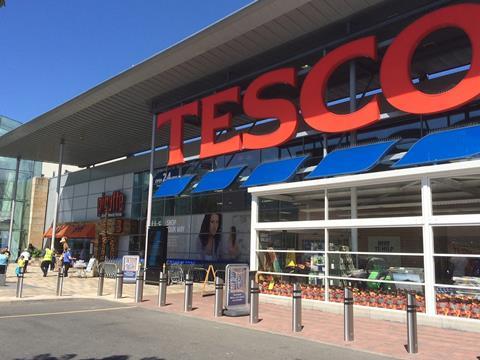 The papers take a long hard look at what Tesco CEO Dave Lewis can expect at this Friday's AGM. The supermarket giant is expected to reveal a further fall in sales ahead of meeting in a trading update, with analysts forecasting a dip in like-for-like sales of between 2% and 3% for the 13 weeks to 30 May (The Guardian).
The decline will be better than 3.8% slide that Tesco suffered in the same period last year, but is worse than the 0.3% drop during the vital Christmas period (The Telegraph). Shareholders will grill the board on one of the most dramatic years in its long history, which resulted in that record £6.4bn pre-tax loss.
The Sunday Times expects a shareholder backlash at the AGM over £2m of pay-offs to former CEO Philip Clarke, sacked last September, and Laurie McIlwee, who resigned as FD last April.
The Daily Mail also adds Tesco shareholders are set to vent their anger following an "annus horribilis" at the company. The £1.2m payoff to Clarke, which he got on top of a £764,000 salary payment after leaving, is expected to generate the most criticism.
Andrew Clark in The Times this morning says that other than the occasional appearance at Liverpool football matches, the former boss has kept the lowest of profiles since he was ousted from Tesco last year, "but the spectre of Philip Clarke will return to haunt the company's annual meeting on Friday".
Research from Local Data Company show more woes ahead for groceries big players as discount retailers are opening more stores than Tesco and Sainsbury's and their convenience arms (The Financial Times). The discounters — including Aldi, Lidl, Iceland, Poundland and B&M — increased their store footprints at a rate outstripping their supermarket rivals, according to LDC, which analysed store openings and closures over the past five years.
Marks & Spencer has reduced its calculation for online sales over the past four years after taking into account £500m of goods that had been returned to its shops, according to the Mail on Sunday. New figures from the retailer revealed it sold £649m worth of products online in the year to March 2014.
Italian coffee group Illy has appointed Roland Berger to look at strategic options, including the possibility of a stock market listing, according to people with direct knowledge of the matter (The Financial Times).