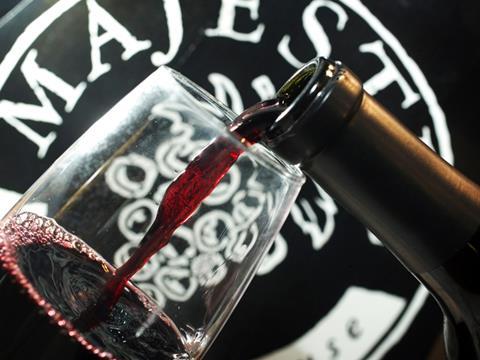 Majestic Wine admitted today that it is stockpiling wine, amid fears that a 'no deal' Brexit could lead to gridlock at ports and disrupt deliveries (The Daily Mail). Majestic Wine is to stockpile more than 1m extra bottles of wine from France, Spain and Italy as part of its emergency planning in case there is no Brexit deal by March (The Guardian). Majestic Wine has revealed plans to bring in millions of pounds of extra bottles – a swimming pool of wine – to guard against any disruption to supply caused by Brexit (Sky News).
Majestic Wine is stockpiling £8m worth of booze as it braces for any disruption to supplies from Brexit as the drinks merchant shot a further warning about the "tough" retail climate (The Telegraph). Majestic Wine will spend up to £8m buying more supplies to mitigate potential Brexit disruption, warning that the weak UK market would already push full-year profit lower than expected (The Financial Times £). Majestic Wine is to stockpile an extra £5 million to £8 million of bottles above its normal levels to cater for any supply chain disruption after Brexit next March (The Times £).
Struggling retailers are hoping for a boost from this year's Black Friday, with as much as £1.5bn expected to be spent online alone on one of the biggest shopping days of the year (The Guardian). British shoppers will spend an average of £327 each over the Black Friday weekend, according to consultants Oliver Wyman. But for many retailers, what matters more is how much is sent back. Sending back unwanted items will cost UK retailers £362m over prime shopping weekend. (The Financial Times £)
Some retailers may be shunning Black Friday but Argos is opening mini-stores, collection points and a new fulfilment centre to win sales today. (The Times £)
Black Friday retail workers face long hours, poor pay and 'anxiety through the roof'. Workers face increases in work volume and demanding schedules, often without extra compensation during holidays. (The Guardian)
The British hedge fund run by George Soros has made a £10m stock market bet against retailer WH Smith, adding to short positions equivalent to more than £100m in UK-listed companies. (The Guardian)
Yesterday, retail tycoon and Newcastle United owner Mike Ashley demanded to appear before the housing, communities and local government committee to ask for help for Britain's beleaguered retail sector (The Times £). The founder of Sports Direct, Mike Ashley, has demanded a meeting with MPs in Westminster to tell them how to save the British high street (The Guardian).
Podgy Sports Direct tycoon Mike Ashley hits out at Chancellor Philip Hammond's Budget, describing his attempt to help the High Street last month as 'the work of a child.' (The Daily Mail)
Junk food adverts will be banned on London Underground, train, tram and bus services from February under plans announced by London's mayor, Sadiq Khan. (The Guardian). Adverts for junk food are to be banned on the entire Transport for London (TfL) network to help tackle childhood obesity, Sadiq Khan has announced (Sky News).
The pub giant behind Toby Carvery, Harvester and All Bar One has warned Brexit could have a "material impact" on labour costs and lead to it struggling to find staff to run its bars (The Telegraph).
The rebalancing of Rémy Cointreau's sales in favour of Asia, which now makes up 34% of overall sales, is good news in the long run for a European company whose core product has fallen out of favour on its home continent. But worries over China, where cognac is a prestige gift, have pushed the shares down 10% this year. (The Financial Times £)
China has confirmed the first cases of African swine fever in the capital Beijing, with culls at the two farms affected by the disease as an official estimated more than half a million hogs had been culled since the first outbreak in August. (The Financial Times £)
The prevalence of smoking in China is a public health crisis in the making. The grip of the state tobacco monopoly undermines efforts by central and local governments to persuade people to quit, and smoking rates are rising in the country's richest cities. (The Financial Times £)
Shoppers are scrambling to buy "Kevin the carrot" soft toy featured in Aldi's Christmas advert. (The BBC)
On Sunday Swiss voters will decide whether the state should subsidise farmers who choose not to remove animals' horns or eliminate them via breeding. (The Financial Times £)