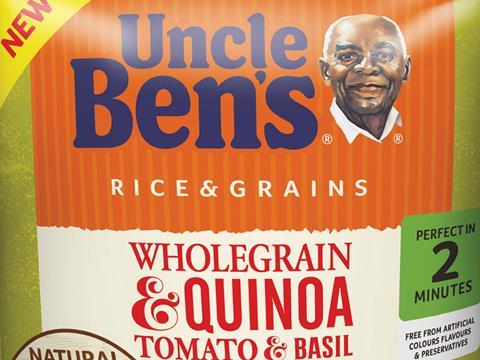 Uncle Ben's is to change its name and branding, following criticism that its 70-year old logo and imagery of a black farmer involved racial stereotyping. The rice brand will now be known as Ben's Original, with revamped packaging bearing the new name appearing in shops next year (The Guardian).
Fiona Dawson, head of Mars' food business, said: "It's time for him to retire." (The Telegraph)
The rice range's owner Mars acknowledged that the label promoted racial stereotypes, and is the latest example of corporate America ditching longstanding symbols in response to concerns about injustice and inequality (The Financial Times £).
The outgoing chief executive of Tesco has used an interview with Sky News to plead for customers to shop normally as coronavirus restrictions are ramped up. Dave Lewis told Ian King Live that stockpiling was "unnecessary" as there was no disruption in supply chains as a result of the new measures, which fall short of a full lockdown to tackle rising Covid-19 infection rates.
Supermarket bosses have urged shoppers not to start panic buying, while Asda is bringing in 1,000 safety marshals, as the industry braces for a potential change in shopping habits ahead of new lockdown restrictions (The Guardian).
Asda is restoring shop floor marshals and applying Covid-proof coating on trolleys to fight a second wave of coronavirus (The Telegraph).
A comment piece in The Telegraph explores the private equity interest in buying Asda. "There's a simple reason why private equity might fancy a bite of Asda. Potential buyers are circling the retailer - but their primary interest does not lie in running a grocer."
The Telegraph also looks at why Walmart believes TikTok is a trump card in its war against Amazon.
Ocado could make up to 200 workers at its Hatfield call centre redundant as it shifts the roles to Sunderland in an apparent cost-cutting move at a time when the online grocer is recording record profits (The Guardian).
Supermarket giants and retailers have been named among the worst offenders when it comes to hiring women on their boards. Despite having a workforce that can be made up predominantly of women on the shop floor, a smaller percentage of women are at the top table at Morrisons and Primark-owner Associated British Foods than at other major firms (The Mail).
Rishi Sunak has scrapped this autumn's budget before the announcement of a revamped support package to protect jobs and the economy through a looming winter Covid-19 crisis (The Guardian).
Rishi Sunak will announce today a multibillion-pound package of support for the economy in an attempt to avoid mass redundancies this winter (The Times £).
A quarter of British pubs and restaurants fear collapse before Christmas without further government support, according to a wide-ranging survey that warns the pandemic could cost 675,000 jobs in the hospitality sector by February (The Guardian).
Coffee shops, fast food outlets and other hospitality venues without an alcohol licence will be exempt from new mandatory table service rules, ministers have confirmed following widespread confusion (The Telegraph).
A surge in demand for hand sanitisers and soaps has boosted sales at PZ Cussons but the coronavirus-related restrictions on social gatherings blotted beauty product revenue (The Times £).
Consumer goods group PZ Cussons has cut its full-year dividend to invest in expanding hand sanitiser production and take advantage of booming demand during the pandemic (The Financial Times £).
Its boss says it's because people are showering less when working from home in the wake of the Covid pandemic (The Mail).
The catering group behind the Upper Crust and Ritazza café brands has given warning that demand "may well remain subdued" this winter as it reported a £1.3bn slump in second-half sales (The Times £).
SSP Group, which is planning to cut up to 5,000 jobs in the UK after heavy losses during the coronavirus lockdown, said just under a third of its 2,800 outlets worldwide had reopened so far as passenger numbers remained low at train stations and airports (The Guardian).
SSP reopened more sites since the easing of lockdown than it previously forecast. And it said weekly sales are slowly improving thanks to a slight improvement in passenger demand, mostly across continental Europe (The Mail).
Tesco boss writes in a column for The Guardian that it is time to get serious about food waste in the fight against global heating. "It is responsible for 8% of emissions, yet food waste is not mentioned in any country's Paris climate action plan."
Two thirds of branded grocery packaging is not fully recyclable, including that of popular items such as Pringles crisps, Babybel cheese and Kit Kats, a survey by Which? found (The Times £).
Crisps, chocolate and cheese are among the worst foods for packaging recyclability, with big brands such as Pringles, KitKat and Babybel singled out for failing to do more to help the environment, the new investigation has claimed (The Guardian).
Lorries will require a government permit to enter Kent as part of plans to prevent chaos at cross-Channel sea ports at the end of the year (The Times £).
JBS, the world's largest meatpacker, is turning to blockchain to ensure the traceability of the tens of thousands of cattle it processes every day in Brazil, following intense pressure from both investors and activists over its environmental record (The Financial Times £).
A feature in The Financial Times (£) looks at why eating insects is about to become big business.
The owner of China's largest bottled water maker has overtaken Alibaba's Jack Ma to become the nation's richest person, after a surge in his company's share price boosted his fortune to almost $60bn (The Financial Times £).