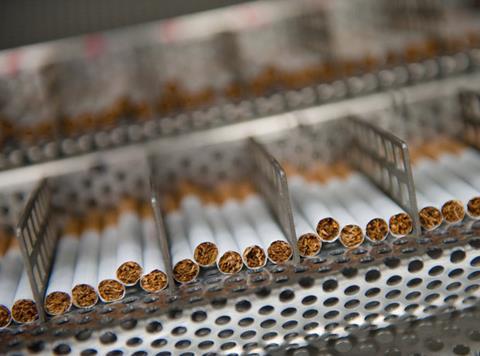 Ratings agencies are eyeing British American Tobacco for a possible credit rating downgrade after the world's second largest cigarette maker approached US peer Reynolds with a $47bn takeover offer.
Both Moody's and S&P Global said the mega-deal, one of the largest bids for a foreign company made by a British firm in recent years, has prompted a review of the company's credit ratings, warning that it could spell a downgrade for the company due to the size of the bid after a flurry of acquisition activity for the company in 2015. (The Telegraph)
Fitch has placed British American Tobacco on rating watch negative in response to its $47bn offer to buy out the whole of Reynolds American, warning that the debt required to fund the deal could make it impossible for BAT to keep its current credit rating. (The Financial Times £)
"BAT lights way for further consolidation in big tobacco", writes The Financial Times (£), which argues that rivals likely to follow dealmaking route into the lucrative US market. "Analysts say the deal will pave the way for further sector consolidation," the paper writes. "Like other developed markets, US volumes have been declining as fewer people smoke. But thanks to robust pricing, industry-wide profits rose 10% last year."
Manufacturers enjoyed the sharpest export growth in two and half years between July and October, but most believe the fall in the pound has been bad for business (The Times £). The CBI's Industrial Trends Survey found that export orders are expected to rise further over the next three months after the pound has fallen by nearly a fifth against the dollar since the EU referendum at the end of June (The BBC).
Stock Spirits has become embroiled in another clash with its biggest shareholder just five months after the activist investor triumphed in a battle to shake up the vodka-maker's board. Western Gate Investments, the vehicle of Portuguese cash-and-carry tycoon Luis Amaral, has hit out after the distiller excluded the two non-executive directors the activist succeeded in appointing in May from all four of the company's board committees. (The Telegraph)
Tobacconists, estate agents and jewellers are taking over high streets across Britain as the number of shops in the country falls at its fastest rate for four years. There were 15 shop closures a day across the UK in the first half of 2016 and the number of new openings has fallen to the lowest level for five years, according to a report that highlights the pressure on the retail sector. (The Guardian)
There has been a "dramatic decline" in the number and value of firms listing on the UK stock market in the wake of the EU referendum. Of the 41 companies that listed in January, only nine have successfully completed a stock market flotation as "pre-referendum jitters have persisted," according to research by Henderson Managed Investment Trusts. (Sky News)
In an interview in The Telegraph Cassandra Stavrou, co-founder of the popcorn brand, talks about starting-out with a cement mixer, product innovation, and work-life balance. (The Telegraph)