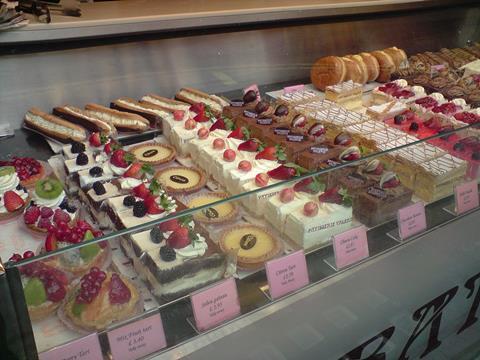 The owner of Patisserie Valerie has fought off a winding-up petition against its principal trading subsidiary as the cake shop and cafe group continues to battle for survival (The Guardian).
The High Court has dismissed a winding-up order that threatened the existence of stricken coffee chain Patisserie Valerie, but the company has been forced to open a probe into discrepancies relating multimillion-pound bonuses handed out to top executives (The Telegraph). The owner of Patisserie Valerie has drafted in investigators from Alvarez & Marsal, the US professional services firm, to review its tax liabilities amid questions about how a £1.14 million bill went undiscovered by the board. (The Times £)
Troubled UK café chain Patisserie Valerie on Wednesday revealed it had awarded millions of pounds of share bonuses to its two top executives without notifying shareholders (The Financial Times £). The financial watchdog is under pressure to launch an investigation into the parent company of Patisserie Valerie as the scandal engulfing the cafe chain deepens (The Daily Mail)
Unusually warm weather across Europe this summer helped the world's second-largest brewer Heineken and smaller rival Carlsberg to sell more beer in the third quarter, despite persistent concerns about beer consumption stagnating in developed markets (The Financial Times £). Heineken sales rose over the summer as the hot weather boosted demand for beer (The Daily Mail).
The FT writes: "If you can't sell cold beer during an extraordinarily hot summer that also includes a World Cup then you might as well give up. Such high expectations only partly explain why shares in Heineken lacked fizz after a third-quarter update on Wednesday." (The Financial Times £)
Gourmet Burger Kitchen has become the latest restaurant group to start an insolvency process to cut outlets in an attempt to survive on the high street (The Times £). A fifth of GBK restaurants face chop with hundreds of jobs on the line (The Telegraph). The future of hundreds of staff at Gourmet Burger Kitchen is in doubt as the fast-food chain plans store closures (The Daily Mail)
Belarus's largest supermarket chain, Eurotorg, has set the price range for its upcoming initial public offering, in a move that will value the company's equity between $689m and $789m. (The Financial Times £)
England's largest winemaker by volume is cheering another record harvest. The Kent-based Chapel Down said it was "our largest ever harvest by volume, yielding 125 per cent more than the previous record". This was due in part to the addition of new acreage but also to favourable weather (The Times £).
English winemakers are raising a glass to a bumper harvest on course to be the best in history in terms of both quality and quantity, after a long, hot summer provided unparalleled conditions for viticulture. (The Guardian)
The chief executive of X5, Russia's largest food retailer, says a change in focus from expansion to improving the customer experience has helped it maintain its number one position amid a slowdown in the sector. (The Financial Times £)
Social supermarkets offer working poor a lifeline, writes The FT. Discount outlets often run by charities are becoming go-to option for many families. (The Financial Times £)