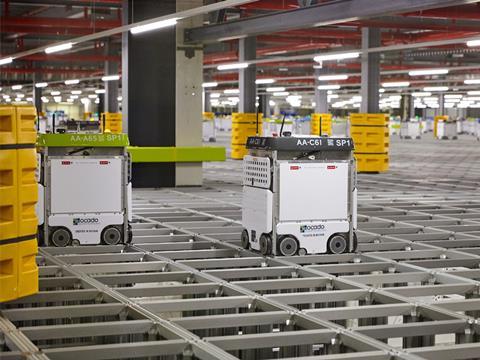 Online grocer Ocado has landed its fifth major overseas deal in less than 18 months after signing a technology partnership with Australian retail giant Coles Group (Telegraph £). Shares in Ocado rose more than 5% as the company said it had secured a contract to provide its technology and software to develop Coles' online grocery business in Australia. Coles and Ocado have agreed to develop and operate two robotic warehouses, known as customer fulfilment centres, or CFCs, where products are picked for delivery, in Sydney and Melbourne within the next four years (The Times £). The £81m deal was just the latest between Ocado and a firm led by retail veteran Archie Norman, who is deputy chairman of Coles (Daily Mail).
The introduction of a sugar tax in the UK has put pressure on margins at high-end tonic maker Fevertree, even as its revenues continue to soar (Financial Times £). The FTSE-listed group, which has been riding a wave of growing appetite for speciality gins, saw its gross profit margin shrink from 53.5% in 2017 to 51.8% in 2018. The company, now valued at more than £3bn, posted a 40% rise in sales to £237m last year. Pre-tax profits jumped by 34% from £56m to £75.4m in the year to 31 December (Telegraph £, Daily Mail). Fever-Tree, named after the colloquial term for the cinchona tree – the bark of which produces the tonic water ingredient quinine, said more gin was sold during the three months of the summer in 2018 than the summers of 2014 and 2015 combined (The Guardian). Tim Warrillow, Fevertree's co-founder and chief executive, said that despite Britain being its "most competed-against market", the company had continued to gain market share in the off-trade of supermarkets and off-licences, while none of its rivals was gaining traction (The Times £).
"Given Fever-tree's rate of consumption, investors must ask 'can we really go on like this?'" writes Matthew Vincent in the FT's Lombard Column (£). "When a company is valued on 69 times earnings, though, a hiatus in revenue and earnings can make a share price look wobbly."
Northern Ireland's agriculture department has refused to reveal its plans for cross-border animal and food health checks under a no-deal Brexit, on the grounds that disclosure would have a "damaging effect" on "international relations" (The Guardian). Although the plans would have to be implemented in less than three weeks' time in the event Theresa May's departure agreement fails to pass a third vote, authorities said such a disclosure would "weaken or inhibit NI's position in the negotiations" on Brexit.
The sugar content in its signature Irn-Bru drink may have been cut, but neither that nor any potential disruption from Brexit appears to have soured the fortunes of AG Barr (The Times £). The soft drinks company revealed yesterday that it had raised its dividend by 7% to 16.64p and predicted that it would be able to ride out any looming economic turmoil.
Special offers on unhealthy food and drinks should be restricted in an attempt to curb Britain's expanding waistlines, experts have said (The Guardian). The UK government is consulting on restricting the promotion of foods high in fat, sugar and salt, in terms of their price and their location in stores – for example by the tills.
A German newspaper report has revealed major historical ties between the Reimann family, owners of Krispy Kreme and Pret a Manger, and the Nazi party (The Guardian). The report in Bild, since confirmed by the family's spokesman, shows that ancestors of Reimann family were enthusiastic antisemites and keen supporters of Adolf Hitler.
Andy Lewis-Pratt thinks he has a plan to revive high streets, shopping centres and casual dining all in one fell swoop with Market Halls, an ambitious bid to redefine food courts for the 21st century (Telegraph £). The company, founded by the Welshman with restaurateur Simon Anderson in 2017, redevelops derelict buildings and turns them into buzzing spaces.
Change is on the menu at the top of Domino's Pizza after confirmation that it is taking steps to find replacements for its three most senior board members (The Times £).
The former chief executive of Uber has brought his food industry business to Britain with the acquisition of Foodstars, a kitchen rental start-up (The Times £).
Embattled entrepreneur Luke Johnson has suffered another headache after profits in his Brighton Pier Group crashed (Daily Mail).
Debenhams has warned that a takeover approach by Mike Ashley would not solve its immediate funding crisis and is ploughing ahead with a £200m refinancing that will wipe out shareholders, including Mr Ashley (Telegraph £).