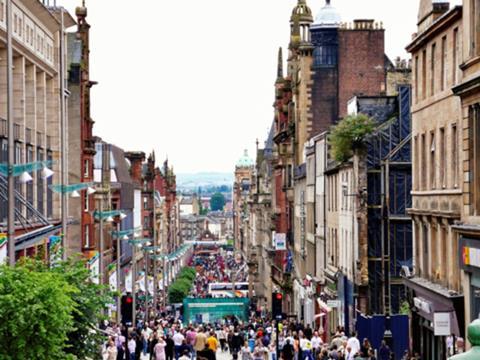 Yesterday's Office of National Statistics figures on UK retail sales are making plenty headlines this morning.
"Record fall in high-street prices prompts spending spree" writes The Guardian, as average store prices in February dropped 3.6% on a year earlier, the largest annual fall since records began in 1997. The Telegraph said that retail sales volumes "smashed expectations" by increasing 0.7% in February. This was the 23rd consecutive month of growth and brought the year-on-year increase to 5.7%.
The Financial Times has plenty more on the huge Kraft Heinz merger. The Lex column says the deal means "the sceptics can open their family-sized can of Heinz humble pie and dig in" after Kraft's share price shot upwards. "The question then becomes which packaged food company is next to get the Buffett/3G treatment. Suddenly Kellogg and Hormel, for example, look like bite-sized companies with room to improve margins." (The Financial Times £).
Also the FT looks at 3G Capital, noting the impressive earnings growth at its food companies have been generated by cutting costs. "What they have been less good at — at least with their food investments — is increasing sales." (The Financial Times £). Meanwhile, Warren Buffett has "won two ways on the leveraged buyout of Heinz" after doubling his money on his equity investment and pocketing cash payments that dwarf most returns available at current interest rates (The Financial Times £).
Finally, one key rationale for the deal is to grow Kraft sales internationally, but the FT sees one key problem. "As an American who grew up on our national cuisine and has travelled the world as a reporter, I see at least one big obstacle standing in its way. I speak of American cheese". (The Financial Times £).
Away from Kraft Heinz, the UK's biggest plastic milk bottle recycler on brink of collapse. Closed Loop Recycling admits company is nearing administration as it feels dual effects of oil price drop and supermarket price war (The Guardian).
Crowdfunding has hit the mainstream as new figures reveal that a fifth of UK equity deals now use crowd-sourced cash. The Government is also pushing to increase take-up of this 'cash from the crowd' model yet further (The Telegraph).
The EU is planning to launch a competition probe into the tactics of large ecommerce companies to examine whether retailers are attempting to limit cross-border trade to push up prices. The move comes as the European Commission outlined broad plans to reform the so-called digital single market (The Financial Times £).
The Telegraph has a mini-profile of Co-op CEO Euan Sutherland, noting that a year on from the Co-op "debacle", he's found a "good fit" at clothing brand SuperGroup.