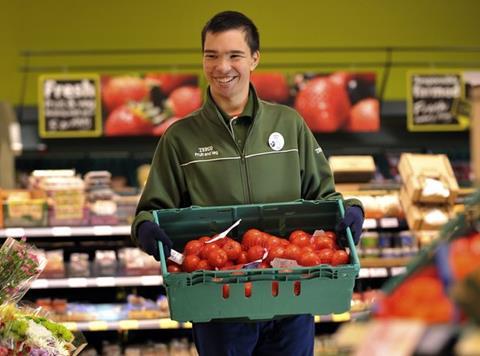 Tesco could axe up to 15,000 jobs in a cull that is expected to put some of its meat, fish and delicatessen counters in the firing line, industry sources said (Mail on Sunday). Britain's largest supermarket chain has triggered the painful review after one of the toughest Christmas trading periods on record when many retailers struggled to grow sales. The company is considering an overhaul of in-store bakeries, using frozen instead of fresh dough, and replacing staff canteens in some stores with vending machines. If the cuts go ahead fishmonger, butcher and baker jobs at the store giant could be at risk, along with counter staff. The report suggested some counters would close while others would have opening hours cut (The Guardian). Two of the UK's largest labour unions are seeking urgent meetings with Tesco amid fears that the retailer is about to cut thousands of jobs as it reviews the profitability of its core UK store estate (Financial Times £). Usdaw, which represents shop workers, and Unite said the news was concerning and that they wanted clarification on the plans (The Times £). Dave Lewis wants to cut costs by £1.5bn by 2020 to make the company more profitable (Telegraph £).
For almost 20 years it has been a familiar sight on the streets of Middle England – an Ocado van bearing home deliveries of Waitrose groceries. But soon those same vehicles might instead be carrying goods for Marks & Spencer, which is planning to launch its own £1 billion food delivery service and is in top secret talks with Ocado (Mail on Sunday). Marks and Spencer has begun exploring a technology tie-up with online supermarket Ocado, in a sign that the ailing British retailer could look to grocery deliveries as a way to regain lost ground as it cancels expansion plans and closes stores (Financial Times £). The discussions are said to be at an early stage, but could mean anything from M&S using Ocado's highly automated distribution centres and vans to the acquisition of large parts of the ­logistics network (Telegraph £). City analysts expect the businesses, which have always had a stormy relationship, to part ways (The Times £). John Lewis Partnership, which controls Waitrose, no longer has any ownership of Ocado, which is separately quoted on the stock market and is valued at around £6.6bn (The Guardian).
The suspected £40m fraud at Patisserie Valerie that led to the café chain's demise this week involved finance staff and a supplier enlisted to provide fake invoices, according to a report by PwC commissioned by the company's board (Financial Times £). Grant Thornton faces questions over whether it examined Patisserie Valerie's accounting journals, which could have provided clues about the suspected fraud that brought down the cake-shop chain (The Times £). The auditor may have failed to look at journal entries, according to someone familiar with a report commissioned by Patisserie Valerie from the accountant PwC. The journals show the names, dates and amounts of transactions.
One of three former Tesco executives cleared in a criminal prosecution brought over the retailer's £250m accounting scandal is taking his former employer to an employment tribunal (Financial Times £). Chris Bush, 53, who was Tesco's UK managing director is suing the retailer for unfair dismissal. Chris Bush had worked at Tesco for 32 years before he was sacked for gross misconduct in 2014 and linked to an alleged £250 million accounting fraud (The Times £).
"A toxic culture was the real villain at Tesco," writes Oliver Shah for the Sunday Times (£).
A major supermarket is to introduce US style paper bags as part of the escalation on war on plastic (Telegraph £). Morrisons said it would charge 20p per paper bag as part of a trial which will also see it raise the cost of long-life plastic bags rise from 10p to 15p. Morrisons said the paper bags, which can be reused and recycled, were being introduced due to consumer demand, although they will initially only be available in eight of its 493 stores (The Guardian).
Fuller Smith & Turner, the UK brewer and pub group, is selling its entire beer business to Japan's Asahi in a deal worth £250m (Financial Times). Real ale campaigners called it a "very sad day" for the sector (Telegraph £). The company, which has three relatives of the Victorian brewing barons John Fuller, Henry Smith and John Turner on its board, said it had taken the decision to quit beer after 174 years to concentrate on running pubs and hotels (The Guardian, The Times £).
"In the mood for a pint of real ale this weekend? Japanese mega brewer Asahi is, paying £250m for the beer business of Fuller's," writes the FT's (£) Lex columnist. "Those looking to pick up some premium shares at a pint-sized price should take a look at Fuller's."
Public health experts have called for a global treaty to promote healthy eating and environmentally sustainable agriculture in a bid to limit the political influence of big corporate food manufacturers (Financial Times £). Overconsumption of junk food and not having enough to eat are two sides of the malnutrition coin, said a commission of experts brought together by the Lancet medical journal (The Guardian).
British firms are "praying for an extension to article 50" rather than face a no-deal Brexit as it emerged that foreign investment has fallen steeply and the outlook for growth has slumped to a six-year low (The Guardian). The Confederation of British Industry said that firms' reported growth prospects were at their weakest for almost six years, while other research shows the number of acquisitions of UK companies by foreign buyers is falling 11% year on year.
Britain's biggest retailers and wholesalers have raised their stockpiling efforts to the highest levels since the 2008 financial crisis, according to a key industry report, with little more than 60 days to go before Brexit (The Guardian). According to the latest snapshot from the Confederation of British Industry's monthly distributive trades survey, retail businesses raised the ratio of their stocks to expected sales in January to the highest level since February 2008 (The Times £).
Marks & Spencer has teamed up with a group of 'influencers' on social media in a desperate bid to arrest declining sales (Daily Mail). The High Street stalwart is working with seven Instagram bloggers to promote its clothes as it seeks to attract younger customers – and it is also launching a range of shoes designed by the women.
The world's biggest consumer goods groups are planning a new generation of products for supermarket shelves, from heated razors to intelligent toothbrushes, as they accelerate efforts to win back shoppers who have ditched mass-produced brands (Financial Times £).
Colgate-Palmolive gave a sombre outlook for 2019, saying it expects profits to decline this year as the strong dollar continues to exacerbate its emerging markets sales woes and add to the drag from higher input and logistics costs (Financial Times £).
The consumer goods titan behind Dove soap and Persil will seek to move on from the furore over its abortive move to Rotterdam when it reports full-year results this week (The Times £). Unilever is due to report almost flat operating profits of €9bn (£7.8bn), while sales are expected to have fallen by 4.9% to €51.1bn, according to consensus analyst estimates.
UK consumer spending is now the highest it has been since 2005, according to figures released this week by the Office for National Statistics (ONS) (Financial Times £). The average UK household spent £572.60 per week, when adjusted for inflation.
The maker of Irn Bru remains cautious about the impact of a weaker economy and further regulation on the soft drinks industry, but is on course nonetheless to increase its annual revenue by 5% (The Times £).
Carlos Brito has such an unquenchable thirst for dealmaking that when he unveiled the £79bn acquisition of SABMiller in October 2015, few people expected the chief executive of Anheuser-Busch InBev to stop there. Yet the wiry Brazilian's tactic of doing debt-fuelled acquisitions followed by ruthless cost-cutting to pay for the next takeover seems to have come unstuck after investors took fright at AB InBev's towering $109bn net debt pile (Financial Times £).
"Scotch whiskey groups must work out how to appeal to a younger generation of consumers," writes the Financial Times' (£) Lex columnist. "The main challenge is how to appeal to a younger, hipper generation of consumers. The rules governing Scotch's image and quality might hinder experimentation but the industry knows it needs to cater to different tastes."
A Portuguese cash-and-carry entrepreneur is gunning for the chairman of Stock Spirits, claiming shareholders in the listed vodka maker should be handed a greater share of its profits (The Times £). Luis Amaral's investment vehicle, Western Gate, plans to use its 10% shareholding to rally other investors, urging them to vote against the re-election of David Maloney at the company's annual general meeting on 14 February.
A glass bottle shortage is likely to push up the price of wine, a report by The Grocer has found. Wine industry experts issued the warning after glass suppliers reported steep increases in costs caused by shortages (Telegraph £).
The craft beer boom shows no signs of slowing down after 430 new breweries opened in the UK in 2017, the latest figures from HMRC reveal (Daily Mail). This has accelerated more than 300 per cent from around 2009/10, when openings ran at just over 100 each year.
Dozens of MPs and peers, including some with vast inherited wealth, own or manage farms that collectively have received millions of pounds in European Union subsidies. An analysis by the Guardian and the environmental group Friends of the Earth identified 48 parliamentarians who claimed £5.7m in farming subsidies under the EU's common agricultural policy (CAP) in 2017, the latest year for which figures are available.
Dishonest shoppers and "serial returners" face crackdowns by shops, who are resorting to using social media to catch them out (Telegraph £). Retailers from Asos to Harrods are adopting behind-the-scenes measures to catch shoppers wearing clothes before sending them back, and falsely claiming they have not received items bought online.
"Fevertree is going to need more than just an exciting story," writes Tom Stevenson in the Telegraph (£).
McDonald's has apologised after customers across the UK reported finding chicken nuggets in vegetarian meals. The fast-food chain apologised and acknowledged that it was unacceptable to serve meat to those who had ordered a vegetarian product (The Guardian