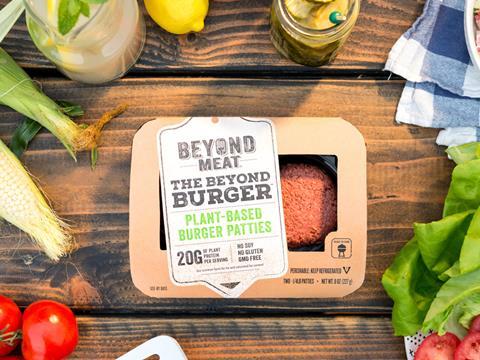 Shares in Beyond Meat surged 9% to $86.67 on Tuesday after the group said it planned to produce its plant-based meat alternative in Europe for the first time, writes The Financial Times (£). The business said it would expand its partnership with Zandberen World's Finest Meat to manufacture at a new facility under construction in the Netherlands. The plant is expected to be completed in 2020. The shares also benefited from and "overweight" weighting and $97 price target from JPMorgan analysts who predict a $100bn market for plant-based meat in the next 15 years.

However, an opinion piece in the The Financial Times (£) explains why Beyond Meat's valuation is "hard to swallow". Pull up the financials, and the most striking think is how small the business still is, it says. It notes that in 2018 the company reported less than $88m of revenues and made an operating loss of $30m. However, it notes that investors are paying for a future in which the $1.4tn global meat market has been replaced by engineered products that satisfy even the most ardent carnivores. City A.M. also notes that Wall Street analysts have warned that the heady stock pricing may have jumped the gun.
A Which? poll has rated WH Smith the UK's worst high-street retailer for a second consecutive year (The Guardian). Shoppers complained about untidy stores and poor value for money. John Lewis was among the best-ranked chains. Sky News reports that Which? said there was still demand from shoppers for the experience and services offered by bricks-and-mortar stores that could not always be replicated online. The BBC quotes retail analyst Richard Hyman who suggested shareholders in WH Smith have pushed it to focus on "short-term returns" from its travel division.
The American owner of Boots The Chemist is exploring the closure of hundreds of shops in the latest blow to Britain's crisis-hit high streets (Sky News). Boots is believed to be reviewing more than 200 of its UK stores to cut costs and reinvigorate profits growth (Financial Times £). The stores could face closure over the next two years, says The Times (£). The Telegraph notes that owner Walgreens said there would be a "significant restructuring" as part of a drive to save more than $1.5bn (£1.2bn) in annual costs by the 2022 financial year. The Guardian's story leads on the potential loss of hundreds of jobs. The Independent says the 2,485 store-chain has been battling falling sales. City A.M. says Boots is struggling to avoid the same fate as the likes of Poundworld, Toys R Us and Maplin.
Pork prices are set to soar because of the China swine fever outbreak, reports the The Financial Times (£). The disease could wipe out a third of the nation's pigs this year, Rabobank estimates. AllianceBernstein says Chinese consumers will probably eat more alternatives such as tofu.
Walmart has hired Suresh Kumar as its chief technology officer and chief development officer (The Financial Times £). Kumar most recently worked for Google as general manager of display, video, app ads and analytics. He has also previously worked for Microsoft and Amazon. The move reflects the Asda owner's attempts to "pick up the pace" of its digital transformation.
Casino has opted against paying an interim dividend this year as part of its attempts to cut debt levels following a ratings downgrade by S&P Global from B to BB, which placed it on negative credit watch (Financial Times £).
Figures compiled by the British Retail Consortium and Nielsen have found shop prices have increased as retailers rein in discounting, report The Times (£) and CityA.M. Shop-price inflation increased to 0.8% year-on-year in May, up from 0.4% in April. Food inflation, however, fell to 1.8% in May, down from 2.2% in April. Prices for fresh food rose 1.5% over the year, while ambient food inflation slowed to 2.1%, down from 3.2% in April.
Going cashless may be attractive, but it is not yet socially responsible, says an opinion piece in The Times (£).
The Daily Telegraph catches up with earlier reports in other media about how the Greggs vegan sausage roll has continued to boost Quorn. Quorn said sales of the vegan sausage roll exceeded initial sales forecasts by 70%. Quorn sales surged 7% to £220m last year.
Tesco Bank has refused to guarantee that its mortgage clients will not be sold to a "vulture fund or inactive lender", reports The Daily Mail. The move has led to fears the customers could become "mortgage prisoners". MPs, including Yvette Cooper and Norman Lamb, have signed a letter to the bank's chief executive, Gerry Mallon, urging it to only explore a sale to an active lender.
Tim Martin, chairman of JD Wetherspoon, tells Sky News he blames the "drug of branding" for Jamie Oliver closures.
City AM wonders if Pret a Manger's move towards focusing solely on plant-based diets at many of Eat's existing stores will alienate Pret from the 73% of the population whose diet is meat-based or whether it is a savvy business move in line with current trends.