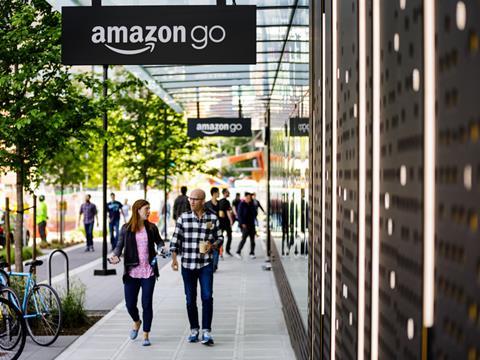 Amazon has struck deals to open more than 10 Amazon Go convenience stores and is holding talks on about another 20, with most of the sites Amazon has picked are thought to be near transport hubs to target commuters (The Times £). Amazon has struck deals to open more than ten checkout-free convenience stores, and is holding talks on 20 other sites (The Daily Mail).
Has Amazon Fresh chosen the prime moment to take on UK supermarkets, writes The Guardian? Despite the surge in online grocery shopping Amazon still faces an uphill struggle for market share. Analysts think if Amazon's chief executive, Jeff Bezos, wants to make waves here it will have to buy an incumbent, with Walmart-owned Asda or Morrisons the most likely targets. (The Guardian)
We fixate on the decline of the high street, but the real issue is Amazon says The Guardian's John Harris. Politicians talk about saving traditional shops, yet they should focus efforts on challenging the vast power of the tech giant. (The Guardian)
The John Lewis Partnership is parting ways with the director in charge of Waitrose's online business. Ben Stimson, digital director of Waitrose, is understood to be leaving next month in a move that has raised some eyebrows in the industry given the scale of the challenge ahead for the business. (The Times £)
The burger chain Byron is to make more than half its workforce redundant following a rescue deal that involves the closure of 31 of its 51 restaurants (The Guardian). More than half of staff at Byron lost their jobs as the burger chain was sold to investment firm Calveton UK (The Daily Mail).
One of Britain's biggest shopping centre owners has tried to reassure investors that the turmoil in the sector is showing signs of improvement as it prepares to tap them for cash (The Times £). Britain's biggest listed shopping centre-owner is preparing to ask shareholders for hundreds of millions of pounds to improve its chances of surviving the coronavirus pandemic (Sky News). Shopping centre giant Hammerson is preparing to launch a huge cash call to boost its chances of pulling through the pandemic (The Times £).
Short-sellers put Hammerson in their basket amid virus squeeze as the City is braced for painful results as the challenges mount up for mall owner. (The Telegraph)
Co-op boss Jo Whitfield tells the Sunday Times she 'has the recipe to conquer suburbia'. The Co-op's model of locating stores on suburban high streets has made it a standout performer during the crisis. The Co-op's strategy revolves more around convenience than price, but in such a fiercely competitive industry no retailer can afford to stray too far from the pack. (The Times £)
When there are seismic shifts in the economy, the companies that will triumph are those that can get ahead of social and economic change rather than be beaten by it. And that is why the John Lewis Partnership should be a beacon for other enterprises faced with a massive challenge. (The Daily Mail)
The City found the words of Reckitt Benckiser boss Laxman Narasimhan's words Strepsil-soothing this week, with all analysts covering the stock upping their target price. That makes them more highly valued than rival Unilever. On the other hand, we'll be elbow deep in Dettol until a vaccine is found, so there's not a lot of downside to holding on to these stocks. (The Daily Mail)
Upmarket dog food company Butternut Box, backed by the former boss of Sky Bet, is creating up to 500 new jobs at a new factory near Doncaster. The company has already secured £40m in investment from venture capitalists including L Catterton. (The Telegraph)
Being boring helps Unilever clean up, writes The FT. "Improved first-half profit on steady sales provided the catalyst, with demand for hand sanitiser and ice cream making up the slack elsewhere in the portfolio. It was proof that Unilever's conglomerate structure can deliver a reliable performance no matter what." (The Financial Times £)
Hopes of a rapid economic recovery have been boosted by a steady increase in household confidence as shoppers return to the high street. (The Times £)
Sterling has enjoyed its biggest monthly rise against the dollar for a decade after mounting concerns about the economic outlook for the US. (The Times £)
British American Tobacco has beaten profit expectations as smokers have stuck with premium cigarette brands despite earlier fears of downgrading in the pandemic, helping bolster revenues. (The Financial Times £)
Coronavirus has prompted a surge in corn prices in China, even as the pandemic has hammered global demand for the crop, resulting in a speculative frenzy and a problem for policymakers. (The Financial Times £)