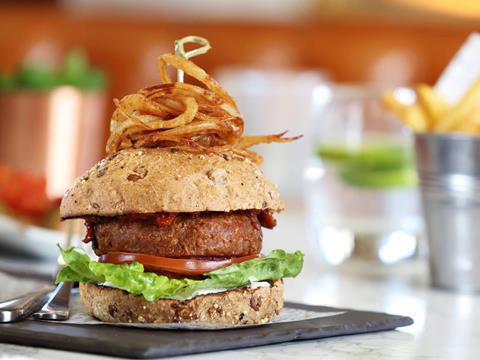 Shares in California-based Beyond Meat more than doubled on their debut on Nasdaq on Thursday, as investors scrambled to get exposure to the fast-growing sector of plant-based food (The Financial Times £). Plant-based vegan "meat" got a thumbs up from Wall Street yesterday as shares in Beyond Meat jumped by more than 150% on debut (The Times £). Shares at vegan startup Beyond Meat have rocketed on their trading debut, surging more than 140% in its opening minutes (The Telegraph). Shares of vegan burger maker Beyond Meat soared on their Wall Street debut as investors bet on the growing popularity of plant-based foods (The BBC). Beyond Meat Inc. piled on the market value, serving up the year's best first day for a US initial public offering (Bloomberg).
Kellogg's chief financial officer is leaving after little more than two years as disappointing results from the company behind Rice Krispies, Pringles and Pop-Tarts underlined pressures on the packaged food industry (The Financial Times £).
Reckitt Benckiser blamed a smaller than expected number of people suffering from cold and flu as it missed growth expectations at the start of the year (The Telegraph). Reckitt Benckiser sales grew slower than expected in the first quarter, largely because of a mild winter that softened demand for cold and flu medicines, as it braced for fallout from a scandal at a former subsidiary (The Financial Times £). Reckitt Benckiser admitted it could still face legal action over the Indivior scandal and a fine 'substantially higher' than the £300million it has set aside (The Daily Mail).
The humble penny has been saved by the Chancellor of the Exchequer, who has pledged to safeguard the future of cash (Sky News). The UK Treasury has reprieved 1p and 2p coins, saying they will continue to be used "for years to come" (The BBC).
One of Europe's largest suppliers of cleaning products revealed yesterday that its chief executive is to stand down and warned on profits for the second time this year. McBride said that Rik De Vos, who has run the business since 2015, would step down once a successor had been found. (The Times £)
The number of shops lying empty soared by more than 7,500 last year, according to new data that lays bare the crisis on the high street. (The Guardian)
UK retail landlord Intu said on Friday its rental income this year will drop more than expected after a rise in retailers forced to restructure their store portfolios. (The Financial Times £)
Pig 'Ebola' Virus Sends Shock Waves Through Global Food Chain. African swine fever in China will impact global food supply, while Rabobank warns the virus will move markets and may influence geopolitics. (Bloomberg)
The FT checks out the UK's first till-free grocery store at Sainsbury's revamped Holborn branch and cautions: "Even digital diehards must recognise that waving a phone, tapping a card or banking online only works if you can afford the technology needed to do so." (The Financial Times £)