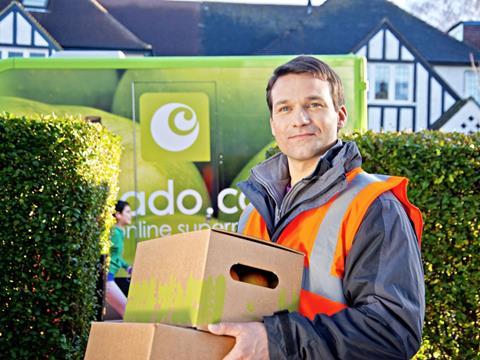 Ocado shares jumped by as much as 9% in morning trading yesterday on the back of hopes the online grocer could secure a technology deal with Marks & Spencer.
The Sunday Telegraph reported that Ocado and Marks & Spencer were mulling a partnership as a way for the high street stalwart to launch online grocery deliveries. The paper writes today that the two companies plan to start talks in the coming weeks following years of resistance from M&S to enter the food delivery sector. M&S is considering Ocado as just one option to meet online customer demand for its popular ranges of upmarket food. (The Telegraph)
Ocado's shares are particularly prone to big swings in price, as the stock is tightly-held by its largest shareholders, while disagreement over the long-term viability of the company's business has prompted diverging bets from a number of hedge funds. (The Financial Times £)
Leaving the European Union without a trade deal in place could put up to 97% of British food and drink exports at risk, according to a House of Lords report that lays bare the agricultural industry's overwhelming reliance on local markets. The latest Lords report on the implications of Brexit exposes particularly high dependency on the single market and associated EU trade deals among British farmers and food manufacturers. (The Guardian)
A whopping rise in orders in just three months has helped push up sales at online takeaway business Just Eat by nearly half (The Telegraph). The online takeaway ordering service Just Eat has said its strategy and rapid growth will be unaffected by the loss of two chief executives in three months (The Financial Times £). Online takeaway service Just Eat sees tasty sales rise but its shares slump on worries over future growth (The Daily Mail)
The Co-op has become the first national retailer to sell British-only fresh meat as it aims to boost sales in the era of Brexit. Danish bacon and New Zealand lamb have been banished from Co-op shelves in favour of domestic alternatives. The country's fifth-largest grocer by sales said prices would not rise as a result. (The Financial Times £)
Shops struggled to restrain prices in April, discounting vigorously in a bid to avoid a surge in inflation pushing customers away. Prices in the shops held flat on the month and are down compared with April last year, according to the British Retail Consortium. (The Telegraph)
Activity in the manufacturing sector made a surprise rebound in April as it surged to a three-year high boosted by strong demand at home and abroad, according to the closely watched purchasing managers' index for manufacturing (The Times £). UK manufacturers saw their strongest growth in three years last month thanks to a sharp pick-up in domestic orders and robust exports, boosted by a weaker pound (The Daily Mail).