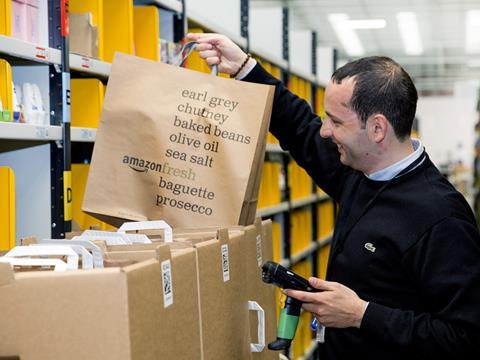 Amazon has raised the pay of thousands of workers in the UK and US, after coming under fire from campaigners over its low wages and poor working conditions.
Workers in London will receive an hourly rate of £10.50, up from £8.20. Workers outside of London will receive £9.50 an hour, compared with £8. In the United States, workers will receive a new minimum wage of $15. (The Financial Times £, The Times £, The Telegraph, The Guardian, The Daily Mail, Sky News, The BBC)
The FT's Lex column writes that when Walmart made a similar decision to raise wages in 2015 it blamed the increased labour costs for a profit shortfall. "This will not happen at Amazon. The company's razor thin profit margin is largely by design… As automated warehouses expand, hiring will fall further. The cost of higher hourly pay could be offset by a reduction in headcount." (The Financial Times £)
Nearly a tenth of Unilever's shareholders have publicly committed to voting against the company's plan to scrap its Anglo-Dutch structure (The Telegraph). Unilever bosses have been branded 'out of touch with shareholders' amid growing opposition to plans to axe its British headquarters (The Daily Mail).
The trade association for investment management firms has said it is "deeply troubled" by the prospect of some Unilever retail investors being disenfranchised over the company's plans to relocate to the Netherlands (The Times £).
Alistair Osborne in The Times (£) writes: "Going Dutch is contentious enough. But rigging the vote too? Is there no end to the stunts Unilever will pull? And all aimed at taking the Anglo-Dutch outfit to Rotterdam and dumping it out of the FTSE 100."
Indra Nooyi presented PepsiCo's first increase in beverage sales volumes in its home market for the first time in seven quarters on Tuesday, as she bowed out as chief executive of the US soda and snacks group after 12 years (The Financial Times £). A marketing push by Pepsico for its cola helped the company increase beverage sales in North America after a year of decline (The Times £).
Deliveroo's sales have more than doubled to £277m, but losses at the takeaway delivery service also increased to nearly £185m. The privately owned company said losses went up by 43% after it invested £106m more last year than in 2016 in projects including a new head office in Cannon Street, central London, and opening Editions pop-up kitchens. (The Guardian)
Shop prices are creeping up again as retailers cut back on the discounting that has been a major feature of the high street in recent years. (The Telegraph)
US regulators have collected more than a thousand pages of documents in a surprise on-site inspection of ecigarette company Juul Labs as part of its efforts to combat "epidemic" levels of teenage vaping. (The Financial Times £)
Kroger and Walgreens are joining forces to test a new store format that will bring together the two companies' respective grocery and pharmacy businesses. Under a new pilot programme that will be launched, Kroger customers will be able to place their grocery orders online and pick up their orders at participating Walgreens stores. (The Financial Times £)
A Belarusian supermarket chain Eurotorg is planning an initial public offering in London, in what would be the first ever international listing by a company from the former Soviet state. (The Financial Times £)