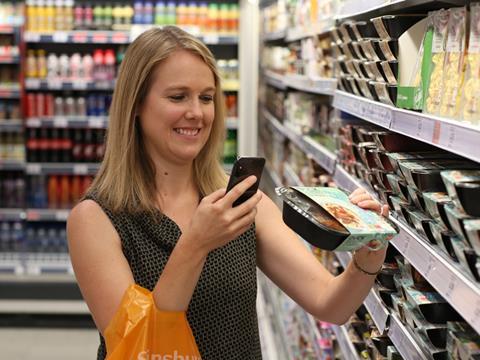 Sainsbury's has launched the nation's first till-free grocery store at its Local convenience branch at Holborn Circus, in the City (The Guardian). Shoppers will be able to pay with their smartphones when they use the Smartshop app to scan as they bag items and then pay via Google Pay or Apple Pay. Shoppes will also be able to pay in more traditional ways but they will have to use a helpdesk manned by a single member of staff. The shop has removed alcohol and tobacco which would require time-consuming age verification. The (BBC) says the trial will run for three months.
Analysts have warned that Sainsbury's must combat its "untidy and badly stocked" stores in the wake of the collapse of its proposed merger with Asda, (The Daily Mail). The retailer is expected to report a further sales decline tomorrow when it announces its full-year results. Sainsbury's insists chief executive Mike Couple has the board's backing but critics suggest his job is "very vulnerable". Shore Capital's Clive Black said the solicitors involved in the case must have felt "Santa was back in town".
Former M&S chairman Robert Swannell told the FT CityNetwork that the recent pattern of high-street retail failures would inevitably accelerate with landlords unable to persuade retailers to sign up to new long leases (The Financial Times £). Meanwhile, the market for UK shopping centres has all but frozen, according to data from CoStar with just £20m of them changing hands in the first quarter compared with a 10-year quarterly average of £783m (The Financial Times £).
Scotch whisky has put spirit into the British economy says (The Times £). Record exports and the opening of new distilleries have lifted Scotch's contribution to the economy by 10% since 2016 to £5.5bn, figures from the Scotch Whisky Association's Scotch Whisky Economic Impact Report show.
The Advertising Standards Authority is probing British American Tobacco Instagram posts for possible breach of rules that ban using social media to promote vaping products to teenagers (The Financial Times £).
Twining & Co, DHL, and GKN and British Sugar UK are among those that have either been removed or suspended from the Prompt Payment Code because of failure to tackle their late payments scourge. (Sky News).
GFK's consumer confidence index has come in at -13 for April, in line with readings from the previous two months despite the uncertainty of Brexit, The Times £. Britons were slightly more confident about the general economic situation over the next year but were less optimistic about their own financial situation and pulled back from making big purchases (Bloomberg).
The European Commission has accepted offers by Mastercard and Visa to reduce payments made on cards from outside the European Union in a move that will see fees charged to retailers in the European Economic Area fall by an average of 40%. (The Times £)
Philip Hammond, chancellor, will rule on the fate of the UK's smallest coin denominations later this week which could see 1p and 2p coins phased out (The Independent).
Hedge funds have been betting against Just Eat as they look to make hay on shareholder disruption and a slowdown in growth as the food delivery business fights to protects its market share against Uber and Deliveroo. (City A.M)
Can Luckin Coffee, a Chinese home-grown chain beat Starbucks and Costa on its home turf, wonders The Daily Telegraph. The company, which announced plans last week to float on the New Yorks Stock Exchange, has grown from 660 branches to almost 2,400 in just eight months.