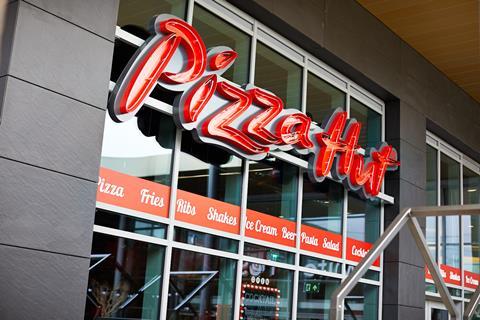 Pizza Hut has become the latest restaurant chain to put a financial restructuring on the menu by hiring advisers to explore the possibility of an insolvency agreement that could entail significant job losses (Sky News). The restaurant chain Pizza Hut is considering restructuring its debts in an insolvency agreement that could involve job losses (The Guardian).
Majestic Wine claims to have gained 150,000 new customers during lockdown and is set to return to the expansion trail with two new store openings by Christmas. (The Times £)
Aldi is to hire 1,200 new employees during the rest of this year, in a rare scrap of good news for jobseekers as the coronavirus pandemic forces many UK businesses to shed staff. (The Guardian)
Up to 1.5 million more children in England should get free school meals to help tackle a growing crisis of food poverty and unhealthy eating, according to a blueprint billed as the first national food strategy since war rationing. (The Guardian)
Percy Pig packaging 'wilfully misleading', says obesity campaign. National Food Strategy report accuses Marks & Spencer of 'false virtue' in display of ingredients of its sweets. (The Guardian)
There are as many ways for investors to play the obesity trade as there are diets. Like faddy eating regimes, many disappoint. Shares in WW International, formerly Weight Watchers, have shed gains quicker than members and are worth one-quarter the mid-2018 peak. Nestlé canned Jenny Craig, a similar buddy-and-meal supplement shakes regime, selling it in 2013 for less than the $600m it paid. (The Financial Times £)
The boss of Next has attacked plans for a digital sales tax, warning it is a dangerous idea which will further trash the ailing high street. (The Telegraph)
The Covid-19 crisis has taken a big bite out of the chocolate market, causing a collapse in demand that has sent cocoa prices sharply lower and created "disastrous" conditions for farmers. (The Financial Times £)
Sales at China's Kweichow Moutai, the world's most valuable distiller, grew at their slowest pace in five years in the second quarter as the company came under pressure from accusations it is reaping the benefits of corruption. (The Financial Times £)
Retailers and landlords do battle over the future of leases, writes The FT. The coronavirus crisis has put immense pressure on property companies to link a tenant's rent to their turnover. (The Financial Times £)
Shoppers' rush to online stores during the pandemic propelled shares in Shopify to new highs on Wednesday, after it said purchases through its network of ecommerce sites more than doubled in the second quarter, surpassing spending on eBay for the first time (The Financial Times £). Spending on Shopify, a Canadian e-commerce company, surpassed eBay for the first time as consumers chose to shop online amid the coronavirus pandemic (The Telegraph).
P&G urged to match best in class to avoid 'greenwash' label. Consumer goods giant's investments in nature-based projects criticised for neglecting supply chain emissions. (The Financial Times £)