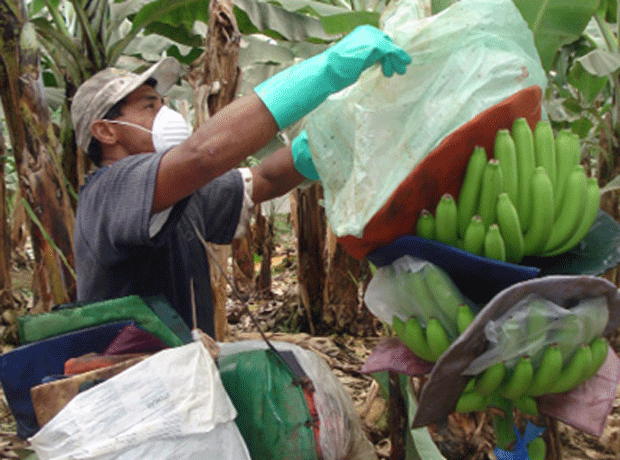 The major supermarkets will all have to set out how they are preventing slavery and human trafficking taking place in their supply chains, under rules announced by the UK government.
The Guardian writes that from October all companies doing business in the UK with a turnover of £36m or more will have to deliver an annual slavery and human trafficking statement covering their manufacturers, farmers and wholesalers elsewhere in the world. If they have taken no steps to combat slavery, then this must also be disclosed.
The action, which will also affect the likes of Primark, Marks & Spencer and well-known food and technology brands, forms part of a raft of measures enshrined in the Modern Slavery Act, which will come into force on Friday. (The Guardian)
An increase in the number of shoppers snapping up holiday outfits at the last minute was not enough to stop retail sales growth from slowing this month, and the picture is not expected to improve next month. In its latest snapshot of how high streets fared, the CBI found that year-on-year growth in the volume of retail sales fell back slightly from June, after May's strong rally. (The Times £)
A number of papers follow up Sainsbury's £125m sales of its pharmacy chain to Lloyds Pharmacy owner Celesio announced yesterday.
The Telegraph says that Sainsbury's received a number of expressions of interest from other buyers but Lloyds was the highest bidder (The Telegraph), while the FT says the move is part of supermarkets' efforts to "increasingly look for ways to increase returns from their stores" (The Financial Times £).
The Guardian writes: "Without major pressure from investors for cash-raising measures, Sainsbury's sudden flurry of fundraising activity is likely to heighten speculation that the retailer is looking to buy out a chain or batch of stores to help expand either its convenience store brand, Sainsbury's Local, or its nascent discounter joint venture, Netto." (The Guardian)
Looking forward to this morning's Diageo annual results The Times says its boss Ivan Menezes is under pressure. It writes: "Ivan Menezes faces the biggest challenge of his career tomorrow as the Diageo chief executive uses full-year results to launch a staunch defence of his strategy and seeks to quell fresh speculation over his tenure." (The Times £)
Greggs' 51% rise in half year profits also gets plenty of coverage this morning. The Telegraph notes that breakfast and healthier options have boosted trading, but "healthier items would not mean the end of its cream cakes or pasties". (The Telegraph)
Talking of Hollywood celebrity Jake Gyllenhaal's recent endorsement of Greggs, CEO Roger Whiteside said it was "never harmful" to have a celebrity endorsement but that there had been no contact with the actor. "There is a long list of celebrities who have been caught [on camera] one way or another coming out of a Greggs. So Jake is the latest convert." (The Guardian)
British American Tobacco's first half results "beat expectations with a rise in market share for key brands and a slower rate of sales decline than its competitors" (The Financial Times £). However, it suffered a 6% drop in profits due to "people quitting smoking, currency swings and higher taxes". (The Daily Mail)
Nestlé India, the local division of the Swiss consumer foods company, slipped into a loss for its second quarter after being battered by a national ban on its popular Maggi noodles due to safety concerns. (The Financial Times £)