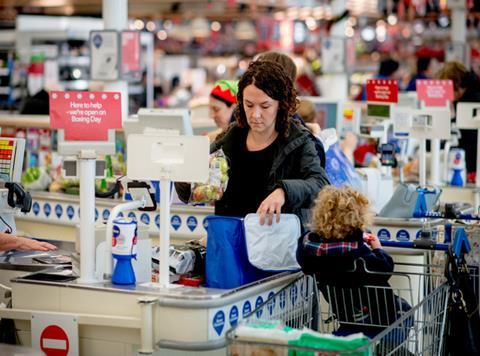 None of the UK's "big four" supermarkets managed to grow their sales in the last 12 weeks, the first time in almost three years that they have all failed to do so (The Telegraph). The four largest supermarkets have all lost market share in recent months as Aldi and Lidl continue to achieve strong growth (The Times £). The UK grocery market grew by just 1.3% in the last three months, Kantar said, as supermarket sales cooled in the shadow of last year's record-breaking May (The Daily Mail).
Shares in Ocado fell 3% after a leading City analyst said one of the company's founders was creating a viable competitor to the online grocer. Barclays Capital's James Anstead reckons Today Development Partners is on to something, having been set up by Jonathan Faiman, who co-founded Ocado with Tim Steiner and Jason Gissing. (The Daily Mail)
A £600 million rights issue to fund its joint venture with Ocado has put Marks & Spencer on the cusp on relegation from the elite FTSE 100 — and, perhaps bizarrely, could yet provide the financial muscle that keeps the retailer among the ranks of Britain's biggest listed companies (The Times £). At M&S, the Ocado deal is a big bet on food retailing, which is a highly competitive sector. The retailer is part-way through a transformation to improve performance, which has been lacklustre for some time. Investors have to make up their minds whether they have faith in M&S and its chairman Archie Norman to deliver. (The Daily Mail)
Poundland continues to shrug off the misery on the high street with a 1.6% rise in half-year sales. (The Telegraph)
Gourmet Burger Kitchen's South African owner has laid bare details of the chain's sales crash after writing off half its investment in the company (The Telegraph). Sales at Gourmet Burger Kitchen fell by 7% last year, the embattled High Street restaurant chain's South African owner Famous Brands revealed today (The Daily Mail).
Groupe Casino, which employs more than 225,000 people around the world, is going through a tough time. Its parent has had to seek bankruptcy protection while shares of Casino itself have fallen by a third since the beginning of March. The stock has been, for several years, the most 'shorted' on the French stock market, which is to say, investors have been betting on further price falls. (Sky News)
Tesco Bank has refused to guarantee that its mortgage customers will not be sold to a 'vulture fund or inactive lender' - leading to fears they could become 'mortgage prisoners'. (The Daily Mail)
Boots' store closure plans have sparked fresh fears about the state of Britain's high streets, writes The Telegraph. The beauty and healthcare chain, which opened its first shop 170 years ago in Nottingham, is the latest big name to feel the chill from the cold winds blowing through the retail sector.
Leading international retailers are failing to fulfil their commitments to pay fair wages to some of the poorest workers in the world, according to a new report. (The Financial Times £)