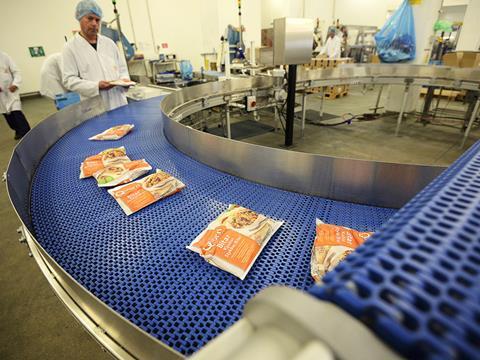 All of the news from this morning and the past few days as the new year gets under way.
Veganuary at risk as brands battle supply chain shortages (The Telegraph). Quorn turns to stockpiling to get products onto shelves as vegan rivals struggle to meet demand.
The Guardian asks if it is it time to stockpile olives as shortages caused by new Brexit import rules hit delis. Regulations likely to result in higher prices and empty shelves for delis and others.
Supermarkets have been urging small suppliers to train up their staff as new post-Brexit customs checks come into force on Jan 1, amid fears of a wave of delays as companies grapple with red tape (The Telegraph).
German yoghurt maker Müller is carving out its farm shop delivery service in a potential challenge to Ocado (The Telegraph). Milk & More will become a standalone business in February in a bid to turbocharge growth following a pandemic sales boost.
The American owner of Boots received a takeover approach from Bain Capital more than two months ago that started the potential sale of the British high street chain (The Times £).
Trolleys at dawn: Aldi and Lidl prepare a new price war (The Sunday Times £). Lidl and Aldi will fight to win inflation-hit shoppers from the big four supermarkets.
Beleaguered tech giant THG has been dealt a fresh blow by a record surge in City traders betting on a fall in its share price, The Mail on Sunday revealed.
Britons indulged in takeaways, TV subscriptions, home improvements and their pets in 2021, as the pandemic and limits on social interaction forced a widespread change in habits (The Financial Times £).
Households were more willing to splash their cash in 2021, and spending during the year was almost 6% higher than in 2019, according to a review of transactions by Barclaycard (The Guardian).
Britons' annual spending on ethical products and investments has surpassed £100bn for the first time, as lifestyle changes linked to Covid and the climate crisis stoked demand for plant-based foods, secondhand clothes and furniture, and greener gadgets, according to a report by the Co-op (The Guardian).
The Times (£) annual economic survey, now in its fifth year, remains dominated by a single issue. The endless to and fro of the Brexit saga, which shaped economists' concerns until 2020, has been replaced by a worrying jump in the cost of living.
Inflation could exceed 7% this year to reach levels last seen in the 1990s, according to The Times's annual survey of economists (The Times £).
Staff shortages continue to blight retailers and hospitality firms, with one warning of closures if Covid absences worsen (BBC News).
Firms 'hang on by their fingernails' as Covid loans fall due (The Telegraph). Battered by omicron and Plan B restrictions, companies now face the challenge of paying back what they borrowed to get through the crisis.
The Federation of Small Businesses has warned that around 440,000 companies could go bust this year solely because they are not receiving invoice payments on time (The Mail).
UK farmers are preparing for a fertiliser crunch in spring after prices almost tripled and supplies were cut, with the reduced use of crop nutrients expected to affect the productivity of livestock, dairy, vegetable and some arable farmers (The Financial Times £).
Consumer concerns about health and the environment are spurring the rise of a new meat-free category: pet food (The Financial Times £).
New rules that give the government powers to scrutinise takeovers that could harm the UK's national security come into force today in the biggest shake-up of the country's dealmaking regime for almost two decades (The Times £).
Ministers have greater powers to block foreign takeovers of British firms after new rules came into effect on Tuesday giving them more scope to unpick deals that have the potential to harm national security (The Guardian).
A Tory peer has vowed to lead a boycott of Coca-Cola products over the company's sponsorship of the 2022 Beijing Olympics, saying its bid to profit from an event organised by the Chinese government was shameless (The Guardian).
Just over a year after entering the Japanese market, Germany's food delivery group Delivery Hero — known for its Foodpanda brand in Asia — announced it was pulling out, citing increased competition and a shortage of drivers (The Financial Times £).
US president Joe Biden is launching a crackdown on the country's largest meat producers, including a push for tighter "Made in America" labelling rules that could fuel tensions with US trading partners (The Financial Times £).