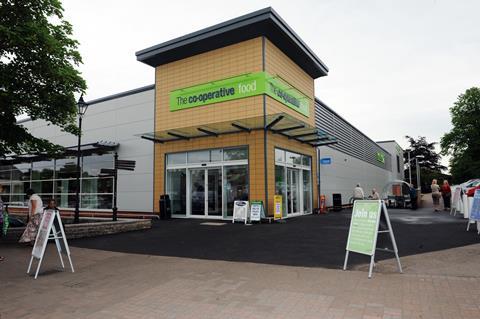 The major grocery story in the media this morning is The Co-op's return to half year profitability announced yesterday (see The Grocer's report here).
The Financial Times (£) writes that the recovery was driven by rising food sales "even as sales fall at the division's bigger rivals". The Daily Mail notes the importance of increasing food sales, writing: "Since losing control of the Co-op Bank after a rescue deal saved the lender from collapse almost two years ago, the troubled group has become increasingly reliant on its grocery business."
The Telegraph highlights the Co-op's plan to offload up to 300 of its larger supermarket stores, quotes chief exec Richard Pennycook saying this would not be dumped in one asset package and expected to spend "many years working them out into the market when we can see a good demand". The Times (£) concentrates on "a surge in the death rate" boosting the business thanks to increased revenues at its funerals division, but also notes that the Co-op "would only break even, or make a small loss, for the full year as it invested in new stores, IT and increased staff pay".
Elsewhere, The Telegraph's Questor column looks at Tesco's shares – concluding that the recovery in Tesco shares has proved shortlived and it still faces a huge challenge to tackle its debts. (The Telegraph)
"Booker corners the market but counter sales go up in smoke", writes The Times (£), saying that Booker has had a week of mixed fortunes for Booker, which has received the green light to snap up two corner-shop chains but reported falling sales.
The Guardian highlights the big share price jump of Morrisons yesterday on the back of takeover rumours. Acquisitive South African businessman Christo Wiese appeared to raise the idea of an expansion of his Brait investment vehicle into the UK supermarket sector. Wiese has built up the supermarket giant Shoprite in his native South Africa, while in the UK Brait has taken over New Look, the fashion retailer, the gym chain Virgin Active and taken a 19% stake in grocery chain Iceland. (The Guardian)
The number of shops left vacant in British town centres for more than three years has surged by 24% to nearly 10,000, as landlords struggle to fill units that are seen as being the wrong size or in the wrong location. If units are not let within a year, the trend is that they will remain unoccupied, particularly on small high streets that have less than 200 shops, according to the Local Data Company. (The Telegraph)
"British men are rediscovering their inner caveman", according to The Times (£). Sales of male skincare products have slumped as the era of the metrosexual man appears to be coming to an end.
For nearly 40 years the force has been strong for Star Wars toys, which have generated an estimated $20bn in sales. And it is expected to get stronger. Walt Disney will launch on Friday a range of toys to accompany Star Wars: The Force Awakens, its new film in the saga. Analysts say the new line could generate $5bn in global sales, eclipsing the $3bn in toy sales generated by Disney's Cars series. (The Financial Times £)