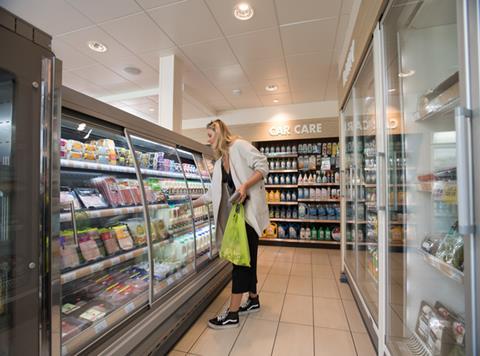 The pressure on Britain's struggling high streets increased in August with retail sales growth slowing as a two-month heatwave came to an end, according to data from the British Retail Consortium (Financial Times £). Total sales were just 1.3 per cent higher than August 2017, compared with an annual growth rate of 1.6 per cent in July and 2.4 per cent in August last year. There was a decline in non-food sales, as consumers held off from making purchases that were not essential (The Times £).
Shares in Casino continued to slide on Monday after S&P cut the French supermarket group's credit rating further into junk territory. Its stock price fell 10 per cent on Friday after a key finance subsidiary disclosed that it had not filed annual accounts, although Casino attributed this to a "technical delay" (Financial Times £).
The FT's (£) Lex column writes, "if the banks took over, the shares held as collateral would be dumped on the market. A new management team would want to start with a clean slate. Writedowns could be drastic."
An MP has warned Coca-Cola that any attempts to shy away from paying its fair share of tax in its £3.9billion takeover of Costa Coffee will not be tolerated (Daily Mail). Peter Kyle, a member of the Commons business committee, said the US fizzy drinks conglomerate could face a full investigation if its purchase of Costa poses a threat to the amount of tax flowing into HMRC's coffers.
Supermarket sales of organic food and drink in the UK have risen by 4% this year, new figures reveal, marking seven consecutive years of growth (The Guardian). Despite an exceptionally cold winter and a hot, dry summer which have played havoc with crops, organic fresh produce and dairy sales remain the main drivers fuelling growth of the overall market, now worth a record £2.2bn.
The National Lottery is promising to make more millionaires each week as its boss stamps his authority on the business with a radical shake-up (The Telegraph). Owner Camelot issued a series of planned changes on Monday, increasing Lotto winnings as much as 20 times.
The scallop wars between British and French fishermen opened up a potential new battleground yesterday after boats from France caught 44 bluefin tuna off the Channel Islands (The Times £). The catch was later sold in France for more than €20,000. French fishermen are allowed to catch tuna in British waters, while British fishermen are banned.
Guardian readers have expressed their views on recently announced plans to ban the sale of energy drinks to children. One commented: "Young people need to have the option to freely try life out for themselves to learn from it."
Investors have given Footasylum a kicking after the fashion retailer issued another profit warning in the face of tough trading and squeezed margins (Telegraph).
Edinburgh Woollen Mill has pulled all its concessions from House of Fraser after the department store was bought by Sports Direct tycoon Mike Ashley for £90m (Daily Mail).