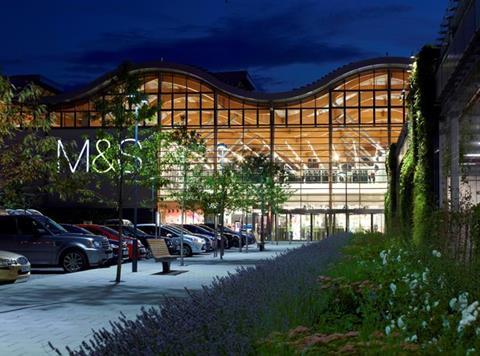 Marks & Spencer has crashed out of the FTSE 100 after a long spell of decline in which its shares have fallen more than 40% since the beginning of last year (Financial Times £). Shares in the 135-year-old retailer fell 1.5% yesterday, valuing it at £3.64bn. This makes the retailer only the 115th most valuable London-listed company (The Times £), (Sky News). The demotion was confirmed at the end of trading on Tuesday by stock closing prices. An official announcement will be made today and changes will be effective from 23 September (The Independent).
Archie Norman, M&S chairman, said the group's eyes were on "the goal, not the scoreboard". Its ousting is a symbolic moment for the retailer that has spent the past three decades in a near-constant state of reinvention (The Times £). Public feeling towards the retailer is stronger than for others, but its plight proves it cannot trade on goodwill for ever.
The next year will be crucial with the launch of its online food shopping in a tie-up with Ocado (The Guardian). Losing its FTSE 100 status means the shares will no longer be held by the investment funds that only track the index of Britain's highest-value companies (The Guardian). "The end of an era is looming" for M&S (BBC).
Disruption to the production of Johnnie Walker whisky, Smirnoff vodka and Gordon's gin could be under threat. Diageo staff at its Scottish operations have voted to strike after pay talks broke down. The GMB accused the company of "insatiable corporate greed". The company refused to improve on a final offer of a 2.8% pay rise. Diageo said it expected business to continue as usual because only a third of its staff in Scotland were unionised (The Guardian).
John Lewis and Partners plans to take charge of supplying water to its John Lewis and Waitrose stores in England through a self-supply licence. It plans to work with Waterscan to organise the operations. It will become the first retailer to skip the margin charged by water suppliers and pay direct wholesale prices instead if its application is successful (The Guardian).
Investors are seeking returns from alternative proteins with growing awareness of meat's environmental impact. Beyond Meat's successful flotation earlier this year has also spotlighted investment opportunities in alternative proteins as a way for food firms to be part of the solution (Financial Times £).
Sales at companies including Greggs, Leon and Dr Martens have grown as veganism has increased in popularity says The Guardian in an article headlined "The vegan halo: how plant-based products are transforming British brands".
Tyson Foods has cut its annual profit outlook, citing a range of "short-term challenges". It expects to book earnings of $5.30-$5.70 a share on an adjusted basis compared with previously expected earnings per share of $5.75-$6.10 for fiscal 2019, which ends in September. Analysts had been looking for $5.94 a share. The challenges include a recent fire at a beef processing plant and volatility in the commodities market (Financial Times £).
Walmart has introduced new restrictions on sales of ammunition in the wake of a mass shooting at one of its stores, in El Paso, Texas. The move would more than halve its share of the market, it said. It said it would stop selling ammunition that could be used in handguns and in military-style weapons and it would stop sales of handguns in Alaska – the last remaining US state where it sold them (Financial Times £). Walmart will also publicly request customers refrain from openly carrying firearms in stores, even where state laws allow it (The Guardian). Critics say Walmart has a responsibility to act (BBC).
Tesco is selling its £3.7bn mortgage portfolio to Lloyds Banking Group which will net it about £100m. The mortgage market has become "nastily" competitive, says the Financial Times (£) as costs rise and growth slows. The deal is expected to complete in March (The Times £). More than 23,000 residential mortgage customers will transfer to Lloyds-owned Halifax (The Independent).
French pheromone start-up M2i has raised €60m in a funding round led by ADM Capital – a London-based private-equity firm which is also a backer of other food and agritech start-ups. M2i is developing pheromones for biological protection of crops to control invasive insects (Financial Times £).
Pork prices rose more than a quarter in August from July in China because of the effect of African swine fever. China's commerce ministry plans to release frozen pork form a "strategic pork reserve" to help stabilise prices. Nanning has begun selling pork at a discount to the average market price recorded over the previous 10 days but limiting customers to 1kg a day. Pork accounts for more than 60% of China's meat consumption (Financial Times £).
Eminence, which said it would vote against Just Eat's £9bn merger with Takeaway.com, has called the deal "highly opportunistic" and too favourable to Takeway.com's shareholders. Exane analysts believe the chances of an outside bigger looking at Just Eat are "low" (The Times £).
Amazon paid £220m in UK direct taxes last year out of total revenues from doing business in this county of £10.9bn, its first tax report in its 21 years of trading in Britain has revealed (The Times £). Amazon also said £573m was collected by the internet giant via indirect taxes as a result of UK business activities (Sky News).
Amazon has been fined €4m by the Paris commercial court for introducing abusive clauses in its contracts with third-party vendors, according to French website Nextinpact (Reuters).