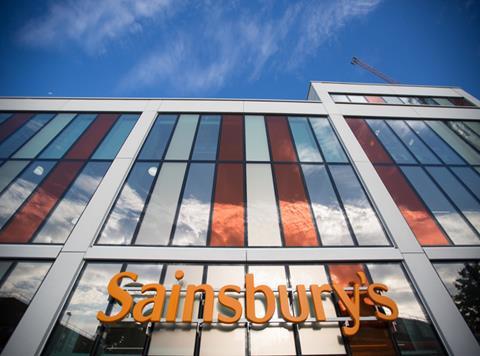 The chief executive of Sainsbury's came out fighting yesterday against suggestions he had taken his eye off the ball on trading after the supermarket chain reported lacklustre growth in underlying grocery sales (The Times £, The Telegraph).
J Sainsbury has reported a better than expected sales performance in the three months to the end of June as it cut prices on key product lines (The Financial Times £). The UK's second biggest supermarket dismissed the slowdown as the result of £150m of price cuts across key categories since March, and claimed that sales volumes improved concurrently (The Daily Mail). Sainsbury's has reported a slowdown in sales growth but says it has the "right strategy in place" in a competitive market (Sky News).
The FT's Lombard column writes: "Wednesday's first-quarter update from the company showed it took big price cuts to lift sales volumes significantly… And while that suggests a proposed £7.3bn merger with lower-cost rival Asda makes even more sense, it could mean Sainsbury's makes less profit until then." (The Financial Times £)
Alistair Osborne in The Times (£) writes of Coupe: "At least he's reminding investors of his eye for a deal. The 1.7 per cent rise in general merchandise sales, lifted by Argos, beat expectations and was the main reason the shares rose 3 per cent to 328p. Indeed, the trouble-free Argos integration helps explain why Mr Coupe has had no problem lining up £3.5bn of bank finance for Asda."
Activist investor Oasis Management has urged Premier Foods' largest investor, noodle maker Nissin, not to vote on the future of chief executive Gavin Darby at the upcoming annual general meeting, saying there is a conflict of interest (The Telegraph).
The Times' Alistair Osborne writes: "In fact, Oasis looks to have got into Premier without a clear exit strategy… Oasis is right that Premier must move faster, including potential auctions of brands to cut the debt and pension deficit. But even cooking Mr Darby won't get Oasis out of the treacle it's in." (The Times £)
The Guardian's Nils Pratley comments: "There is a fortnight to run before shareholders get to vote on Darby's survival. At the moment, you'd probably prefer MacLaurin and Price's loyalism since they know the grocery territory. Oasis, if it wants to be taken seriously as a long-term-minded agitator (a very rare breed), needs to do more than shout "enough is enough"." (The Guardian)
Almost 13,000 small retail businesses are at "high risk" of collapse if Britain leaves the European Union without a deal, industry leaders have said. A "hard Brexit" in March could break the supply chain, leaving food rotting at the border and limiting the choice and quality of products on supermarket shelves, according to the British Retail Consortium. (The Times £)
Iceland has been named the UK's top supermarket for customer satisfaction for the first time. The UK Customer Satisfaction Index surveys 10,000 consumers, is released twice a year, and covers all types of business. (The BBC)
Crumpets are back on the menu at Warburtons after it restarted manufacturing at two factories hit by a shortage of carbon dioxide, which has affected food and drink production across the UK. (The Guardian)
Firms waiting for supplies of CO2 have been dealt a blow after one of the UK's main plants suffered a power outage. CO2 distributor Air Liquide has warned that its gas situation had "worsened significantly" because of a "sudden and unexpected" loss of power affecting its site at Ince, Chester, on Tuesday. (The BBC)
UK ministers are facing fresh calls to reform business rates, with an industry trade body demanding a two-year freeze and a town centre policy review describing them as "an outdated and unfair tax" on retail companies that should be scrapped. (The Financial Times £)
England's progress in – combined with an uninterrupted run of hot weather – is giving UK supermarkets a multimillion pound sales fillip as shoppers stock up with beer, barbecue food and ice-cream. (The Guardian)
A legal battle between UK retailers including Sainsbury and Asda and credit card companies over card fees will have to be reconsidered by a competition tribunal, the Court of Appeal ruled on Wednesday. (The Financial Times £)
It can be easy to jump to conclusions that the death knell is ringing for this famous household name, but underneath the surface of disappointing first-half results lies a bold move by John Lewis that has the potential to safeguard its future. (The Telegraph)
Big technology companies may be partly to blame for weak wage growth across much of the advanced world, according to the Organisation for Economic Co-operation and Development. (The Times £)