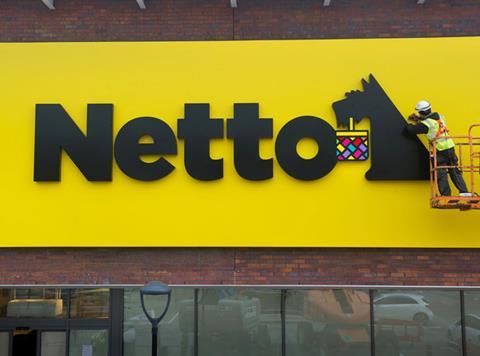 Sainsbury's decision to call time on its Netto joint venture is heavily covered in the papers this morning.
"The short-lived project targeted the north, specifically the M62 corridor, but only 16 stores were opened," writes The Times (£). "The companies have decided to call time on the project, blaming a lack of scale, which analysts had cited as a potential hurdle at the beginning of the trial."
Analysts said Sainsbury's faces stiff competition in the discount grocery sector, with Aldi and Lidl well established and controlling 10.5% of the market, and the Netto project required extensive investment to succeed (The Financial Times £). The Telegraph said the project's failure "will be seen as another victory for the rampantly expanding German discounters" (The Telegraph).
Sainsbury's exit from the venture comes as it prepares to complete its £1.4bn takeover of Home Retail Group, the owner of Argos, a move which is likely to take up "considerable management and financial resources" (The Guardian).
The Telegraph looks at "what Sainsbury's learnt from its brief visit to the Netto ghetto". Chief business correspondent Christopher Williams writes: "Aldi and Lidl must now look at the UK with great expectations. Netto represented the last attempt by the incumbent supermarkets to push back against their advance. Now Sainsbury's and the rest must fight the battle in defensive mode with more cuts to their own prices." (The Telegraph)
Elsewhere, After 257 years in the spirits and beer business, Diageo has made its first investment in a non-alcoholic drinks company. The world's largest distiller, which owns Smirnoff vodka and Guinness stout, said on Monday that it had taken a minority stake in Seedlip, a British company launched last year by entrepreneur Ben Branson that produces non-alcoholic distilled drinks. (The Financial Times £)
The so-called Chicken King of Britain could be about to gobble up the Bernard Matthews' turkey empire. Businessman Ranjit Boparan, whose £3bn food empire includes 2 Sisters Food Group – which owns an array of businesses – and fish and chip brand Harry Ramsden's, is eyeing up troubled Bernard Matthews. (The Daily Mail)
Waitrose has unveiled plans to sell more products overseas after striking a deal with online retailer British Corner Shop. The upmarket supermarket will offer more than 2,000 own-label products through the retailer, which ships British products to more than 138 countries. (The Telegraph)
Pubs business Stonegate has "absolutely no plans" to pursue a £1bn float amid the current stock market turmoil caused by Britain's decision to leave the European Union. (The Telegraph)
Dominic Chappell, the former owner of failed retailer BHS, has taken to television to defend his actions as custodian of the 88-year-old business which collapsed on his watch. In a Newsnight interview the ex-racing driver sought to explain his actions and said the money he took out of the business had no impact on its collapse, calling the £2.6m he received "a drip in the ocean". (The Telegraph)
Dominic Walsh in The Times (£) watching the Chappell interview commented: "Ordinarily, of course, entrepreneurs are rewarded when the company succeeds and not when it fails. If BHS could have been saved with chutzpah and a brass neck, things might have been very different." (The Times £)
Confidence among small businesses across the UK has fallen to its lowest for four years, new findings suggest. Punished by uncertainty in the build up to the EU referendum, rising costs and falling profits, confidence has slumped to +4.3%, down from +37.9% in the same quarter last year, the Federation of Small Businesses said. (The Daily Mail)