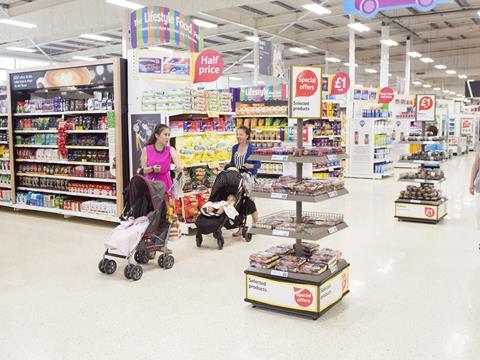 Tesco is to price-match Aldi on hundreds of branded and own-label goods in a sign of growing confidence in its ability to win back customers from the German-owned discounters. (The Financial Times £)
John Lewis and Waitrose staff will get a token bonus on Thursday as Dame Sharon White unveils her maiden financial results as chairman of the troubled retailer (The Telegraph).
Staff at two Waitrose branches have been told their stores will close – becoming the first casualties in swingeing cuts proposed by the John Lewis Partnership's new chairman. (The Daily Mail)
Shopping centre owner Intu has been plunged into turmoil after it ditched an emergency £1.5bn fundraising bid due to a lack of interest from investors (The Telegraph). Intu Properties, the owner of the Trafford Centre in Manchester and Lakeside in Essex, has been forced to pull an emergency cash call after admitting "extreme" market conditions had left it unable to raise its minimum target of £1.3bn from jittery investors (The Guardian). One of Britain's largest shopping centre operators may be forced to sell-off some of its well-known malls to tackle its huge £4.5billion pile of debt (The Daily Mail). The owner of some of Britain's biggest shopping centres is battling to shore up its finances after "extreme" market conditions derailed fundraising plans (Sky News).
Failed cash call leaves shopping centre owner staring Intu the abyss – following its failure to raise enough cash, an emergency fire sale of assets may be the only option left. (The Telegraph)
Mountain of debt threatens to bury Intu, writes The Times (£). Two years ago the shopping centre owner had big plans, but its problems ran too deep. (The Times £)
Almost a quarter of retailers have suffered a significant impact on their business because supplies have been disrupted by the spread of coronavirus (The Times £). Almost a quarter of British retailers are reporting severe disruption to their supply of goods as a result of the spread of coronavirus (The Guardian).
Images of empty supermarket shelves are easy to find on social media as some consumers panic about coronavirus, but there really is no need to panic. Despite some stores being cleared out, retailers and their suppliers have plans in place to get essentials back in stock. (The Telegrpah)
Shoppers could be stung with higher chocolate prices ahead of Easter because the world's largest cocoa growers have hiked their costs, the boss of Lindt has warned. (The Telegraph)
Shareholders of Metro AG expect its cash-and-carry outlets to give big discounts. But they will want any buyer of the German retail group to pay a full price. After one failed bid last year by Czech billionaire Daniel Kretinsky, Sysco could offer an answer. (The Financial Times £)