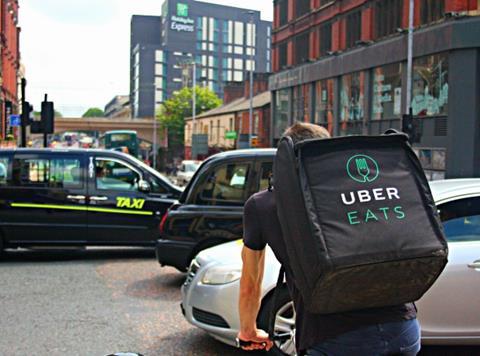 Lower than expected overall number of active customers and activity at Uber Eats hit the taxi company's bottom line as it reported losses of £1.2bn in the third quarter. Revenues from the overall group rose 20% to almost $2.9bn in the three-month period (The Telegraph).
Much of the company's growth came from its ride-hailing operations. However, Uber Eats generated sales of $645m, up 64% on the comparative year-ago period (The Times).
Marks & Spencer has sacked at least nine people from its communications team as it embarks on a cost-cutting drive to revive its poor financial performance. The move follows several oustings and resignations, including finance chief Humphrey Singer and clothing and home supply director Gordon Mowat (The Telegraph).
Takeaway.com has modified its offer for rival Just Eat as it looks to fight off competition from South African business Prosus. The offer, which was previously structured as a "scheme of arrangement" – which required approval from investors in both companies - has been modified to require only 75% of Just East's shareholders' approval, therefore making it easier for the deal to go through (The Daily Mail).
The BBC has an interview with a former Asda baker who lost his job because he refused to sign new contracts and now is preparing to take the supermarket to court. Asda has extended a deadline to sign the new terms to this coming Saturday and said fewer than 300 employees have yet to accept (The BBC).
Dessert chain Creams has reported a rise in both sales and profits, shrugging off the challenges hitting other UK restaurants. Sales rose 37% to £40.1m in the year ended March, while profits jumped 76% to £1.6m (The Telegraph).
A Hummus recall from UK supermarkets - sparked by a salmonella scare last week - has been extended to cover goods with use-by dates up to 17 November. Dip maker Zorba Delicacies, which supplies supermarkets including Aldi, Morrisons, Lidl, Asda and Sainsbury's, is recalling the products which could contain salmonella (The BBC).
Benny Higgins, the former boss of Tesco Bank, has been appointed chairman of financial advisory firm AAB Wealth (The Times).
US speciality coffee trader Sustainable Harvest has acquired the contracts and trading team of Twin Trading, a non-profit coffee trader that entered insolvency last month (The Financial Times £).
McDonald's HR boss David Fairhurst was the second executive to leave the company this week following the departure of CEO Steve Easterbrook, who was found to have broken company rules after having a consensual relationship with an employee. No reason for Fairhurst departure was provided (The Financial Times £).
As turmoil at the chain continued with the departure of a second executive, investors wiped $4bn off the value of McDonald's yesterday. McDonald's has lost four top executives in recent weeks including chief marketing officer Silvia Lagnado and chief communications officer Robert Gibbs (The Times).
Meanwhile, it emerged that Easterbrook will be allowed to keep stock awards in McDonald's worth over $37m as well as $675k in severance pay. He will be banned from working at rival chains, including Burger King, Five Guys and Subway, for at least two years (The Guardian).
Burger chain Shake Shack reported a 32% sales increase in the third quarter, up to $157.8m, ahead of analysts' expectations. Shares in the chain, however, tumbled 15% as it downgraded its outlook for same-store sales growth despite upping by $7m its overall sales outlook for the year (The Financial Times £).
Baby products retailer Mothercare is set to appoint administrators for its UK business unit after intense competition from supermarkets and online retailers put a strain on the company (The Financial Times £, The Guardian). The move will put over 2,500 jobs at risk, though Mothercare's 79 stores will continue to trade as normal for the time being (The Telegraph, The BBC).
Fortnum & Mason is set to open its first standalone overseas store in Hong Kong despite a recession and unrest in the territory. The 7,000 sq ft store, overlooking the territory's harbour, is set to open in early November, just in time for the Christmas season (The Telegraph).