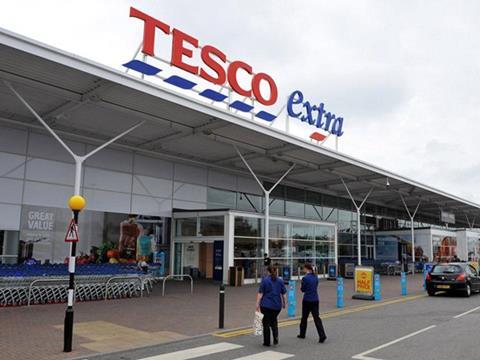 Britain's biggest supermarket chain has upgraded its annual profit outlook as food inflation eased in the first half and customers entertained at home instead of dining out (The Times £).
Tesco says food inflation has dropped in the past six months and will continue falling, with the grocer cutting prices on 2,500 products, including bread and broccoli, by an average of 12% (The Guardian).
The supermarket group, which secured sales of £34b in the six months to 26 August, said on Wednesday it would 'continue to lower prices wherever we can' (Mail).
The boss of Tesco has said its performance will not be threatened as food prices come down, after the UK's largest supermarket group posted an increase in sales and profits in the first six months of the year and upgraded its profit forecast (Financial Times £).
Tesco has rejected calls from a government minister for members of the public to arrest shoplifters, as chief executive Ken Murphy urged customers not to endanger themselves (Telegraph £).
The Lex column in Financial Times (£) reckons "steady Murphy" has room for more surprises in store at Tesco. "Cost pressures persist but even so, the British supermarket group looks good value," the paper writes.
The Tempus shares column in The Times (£) says Tesco "must not go on a trolley dash" as it rates the stock as a 'buy'. "The shares look too cheap, given the strength of cash generation and the potential for more of it to be returned to shareholders."
The market report in The Times (£) takes in share movements of Tesco and Sainsbury's, B&M, as suggestions of a breakdown in the Wilko deal hits confidence, and the listed tobacco giants.
Rishi Sunak on Wednesday promised to create the first "smoke-free generation" as he announced a new law to stop children aged 14 or younger this year ever being sold cigarettes legally in England (Financial Times £).
The pressure on the share prices of big tobacco companies grew last night after the government confirmed plans to raise the smoking age to eventually ban the sale of cigarettes in England (The Times £).
Nearly £1.4bn was wiped off British tobacco company values yesterday after Rishi Sunak announced the smoking age could rise every year so that eventually no-one can buy cigarettes (Mail).
Carlsberg is gearing up for a legal fight with its Russian business Baltika over the subsidiary's right to sell its international brands as the Danish brewer enters the next phase of its tortuous exit from the country (Financial Times £).
A proposed merger between the Britain's biggest scampi suppliers could result in higher prices and poorer quality for customers, the competition watchdog has claimed (The Times £).
Starbucks recently announced that it has developed six new varieties of coffee seeds that can withstand the effects of climate change, which some experts say is "critical" for the future of coffee (The Guardian).