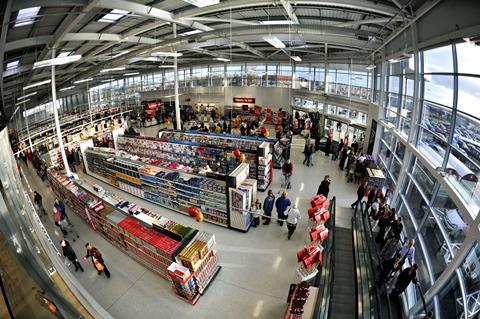 The news of hundreds of potential job cuts at Sainsbury's gets plenty of coverage this morning, with The Telegraph noting the move takes the shine off the sealing of the £1.4bn Argos takeover. Sainsbury's said it was conducting a consultation process with 870 of its store trainers, with almost 600 jobs at risk as the supermarket announced a shake-up of roles across its major stores (The Independent). The company is creating around 280 new 'learning and development managers' positions and will give affected staff the opportunity to apply for these senior roles. The Guardian highlights the retailer is also consulting with 1,900 night workers about changes to their hours. And The Times reports the comments of union Unite, which has more than 14,000 members among the Sainsbury's workforce. The Union said: "We are severely disappointed as Sainsbury's seems to have deep pockets when it wants as it has just forked out £1.4 billion to purchase the Home Retail Group."
The latest market share date from Kantar also gets a good airing across all the papers, with The Mail, The Times and The Guardian focusing on how Easter treats boosted the supermarkets. The Independent says budget supermarkets Aldi and Lidl are now beating their rivals on premium products sales, too. The discounters are growing their premium lines more than twice as quickly as the rest of their ranges, according to Kantar. The Telegraph's business column examines the change in shopping habits and the fact the supermarket wars are now a battle on many fronts. "There was a time when a good old-fashioned supermarket price war meant aisles stuffed with 'buy one, get one free' banners, customers wrestling over the last of the cheap baked beans, and people arriving at the tills laden with tasteless sliced white bread and gallons of milk. Not anymore. Today's store wars are the stuff of middle-class dreams. Thanks to the arrival of discount kings Aldi and Lidl, shoppers are shunning the bargain bins and instead going home with £5 lobster tails, £9 champagne, and legs of serrano ham that don't cost the earth."
The Financial Times and The Mail follow The Grocer's lead in reporting the bumper pay package for Reckitt Benckiser CEO Rakesh Kapoor, one of the best-rewarded chief executives in the FTSE 100. He nearly doubled his pay package to £23m last year, reigniting complaints from investors who fear top bosses are paid too much even at the highest-performing companies (The FT). Alex Brummer in the Mail rails against Reckitt's "unchecked excess" and how its highlights the lack of robust response to fat-cat pay.
The Telegraph picks up on the latest annual results of maverick brewer BrewDog, writing profits have lost their fizz at as the brewery bets big on future growth. Revenues rose 51% last year to £44.7m but profits dipped from £3.7m to £3.5m as the business spent almost £18m launching new bars across the globe, ramping up production and building its new factories. The Guardian notes BrewDog is plotting a move into coffee in an attempt to lure more customers to its bars during the day. The craft brewer's annual accounts show it has bought a 33% stake in Edinburgh-based Third Wave Coffee.
News that Stock Spirits chief executive has come under pressure from an investor gets traction in several papers. The listed spirit company's largest investor has called for CEO Chris Heath to be replaced after raising concerns over how the company plans to halt a sharp decline in Poland, its biggest market (The Financial Times). Portuguese cash-and-carry tycoon Luis Amaral, chief executive and 44% owner of Polish wholesaler and cash-and-carry operator Eurocash, holds a 10% stake in Stock Spirits. The Times reports him as saying management at Stock Spirits had "run out of ideas". There will be a vote on removing Heath and nomination two more non-execs at the annual general meeting on 17 May (The Guardian).
Consumers would face higher food prices if Britain were to leave the EU under two out of the three most plausible trade scenarios modelled by the National Farmers' Union, according to The Financial Times.
Finally, the National Farmers' Union is also launching its first shoppers' sourcing guide to help consumers compare rival supermarkets' policies when they want to buy British food (The Guardian).