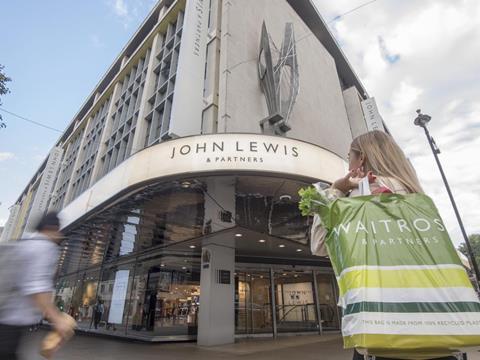 Partners at John Lewis will receive their lowest annual bonus since 1953 as new chair Sharon White embarks on an overhaul likely to result in store closures and the end of the "never knowingly undersold" price pledge (The Financial Times £). The John Lewis Partnership has given staff a token 2% bonus after profits fell by a quarter and the new chairwoman said that a turnaround could take three to five years (The Times £). John Lewis has placed its Never Knowingly Undersold price pledge under review and slashed its staff bonus to a 67-year low after a drop in profits (The Telegraph). John Lewis Partnership has slashed its staff bonus to 2% and warned of store closures after posting a sharp fall in annual profits (Sky News).
John Lewis has warned it could have to close stores as the retail group, which also includes the Waitrose supermarket chain, revealed a plunge in profits and cut its annual staff bonus to the lowest level in 67 years (The Guardian). Profits at the partnership have now fallen for three years in a row and in a bid to revive its fortunes, the former high-street darling has vowed to plough stacks of cash into its online offerings, technology and Waitrose, while scaling back jobs at its head office and sorting out its store portfolio (The Daily Mail).
"'Kitchen sinking' is common practice among new bosses that want to start their tenure with a clean slate. So for Dame Sharon White not to use her first financial results heading up the John Lewis Partnership to get all the bad news out of the way at once indicates the magnitude of the challenge she faces." (The Telegraph)
"We shouldn't underplay the severity of the situation that the new boss of the John Lewis Partnership finds herself in… The retailer is slipping out of the pantheon of national treasures. Profits are down for the third consecutive year. How Ms White handles the next few months will determine whether the retailer recovers its place in customers' and employees' hearts and pockets." (The Financial Times £)
Pizza delivery chain Domino's is stockpiling products in the UK in preparation for potential disruption to its supply chain from coronavirus (The Financial Times £). Domino's Pizza is accelerating the closure of some of its international outlets, as it struggles to find a buyer for most of its overseas operations (The Daily Mail).
The competition regulator is considering whether to advise the government that price controls may be needed to prevent coronavirus outbreak profiteering. (Sky News)
As coronavirus, and the fear of it, continues to spread, there are a growing number of reports of empty shop shelves as people rush to buy products such as hand soap, loo roll, pasta and rice. (The BBC)
The High Street is bracing for a slump as shoppers stay at home amid the coronavirus outbreak. (The Daily Mail)
How about a recipe for humble pie? Preferably delivered, with pre-portioned ingredients, to the doorstep. That is being served up to the sceptics by meal kit company HelloFresh. As it edges towards the black, the Berlin-based company's shares tripled in 2019. (The Financial Times £)
The consumer goods group Henkel that makes Persil washing powder and Loctite glue has said it will ditch underperforming brands in response to flatlining sales and three consecutive profit warnings. (The Financial Times £)
Supply disruptions from the coronavirus epidemic have pushed China's piglet prices to record highs, as farmers bet that a domestic pork shortage will persist even after the country's economy gets back up to speed. (The Financial Times £)