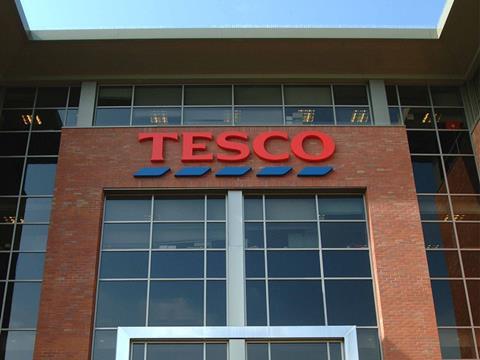 "Blow for fraud office as Tesco directors' retrial collapses" is the headline in The Times (£) after the retrial of two former Tesco executives has collapsed after they were acquitted of fraud and false accounting halfway through the case. The Guardian writes that two former Tesco executives have been cleared after the judge threw out the case stating the prosecution case was "so weak" it should not be before a jury.
Two former Tesco directors have been cleared of fraud in what is being seen as a "significant defeat" for the Serious Fraud Office (The Telegraph). The Serious Fraud Office was facing questions over its future last night after two former Tesco executives were cleared of a £250million fraud and false accounting (The Daily Mail). A high profile trial brought by the Serious Fraud Office against two former Tesco executives over a £250m accounting scandal dramatically collapsed on Thursday after the two men were acquitted (The Financial Times £, Sky News, BBC).
"Fraud office in battle for survival after latest defeat" writes The Times (£) after "the latest example of the SFO's mixed results in high-profile fraud prosecutions".
The FT's Lombard column says the SFO "tried to have cake and eat it" after the collapse of the Tesco trial. "It is a serious blow to the SFO's new dual-pronged strategy: of pursuing deferred prosecution agreements with companies, and criminal prosecutions of individuals. For the SFO, the trial was a first attempt to prosecute individuals after securing a DPA." (The Financial Times £)
The Blue Planet effect, which has seen companies and consumers ditch plastics after Sir David Attenborough's shocking BBC documentary, is rippling into the FTSE 250 (The Daily Mail).
DS Smith has increased its profits by more than a quarter as the chief executive of the FTSE 100 maker of cardboard packaging said that it was "bonkers busy" providing boxes to retailers such as Amazon in the run-up to Christmas (The Times £).
Nando's has recorded bumper sales as the South African restaurant chain continued its global expansion. (The Telegraph)
James Quincey, Coca-Cola's chief executive, will take over as chairman after the beverages maker revealed Muhtar Kent plans to step down from his post next year. (The Financial Times £)
The cocoa industry is failing to meet a highly publicised pledge to stop deforestation in west Africa and eliminate tainted beans from supply chains, environmental campaigners say. (The Guardian)
Craft distillers turned 'mother's ruin' into an upmarket drink. Now many are concerned their sophisticated gin market is under threat from fruity pink varieties – and they're revolting, writes The Guardian.