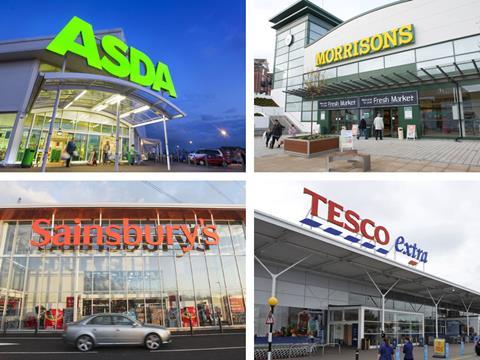 "Supermarkets slump as fears of price war grow", is the headline in The Times (£) this morning. The paper writes that shares in Britain's top three supermarket retailers fell sharply yesterday after analysts said there were "not enough sales to go around" amid growing fears of a renewed food price war.
More than £1.6bn has been slashed from the value of the UK's three biggest publicly listed supermarkets after HSBC warned that Asda is preparing to fire the first salvo in a summer price war that could "wipe out" its rivals' profits (The Guardian). Tesco's 8% fall yesterday came despite an upbeat message from the supermarket's chief product officer Jason Tarry. He said England's defeat in the Euro 2016 football tournament and the weather had a bigger effect on business than the EU referendum. (The Daily Mail)
Danone, the world's biggest yoghurt maker, has agreed to acquire WhiteWave Foods, a Colorado-based maker of high-end natural and health-focused foods, in a deal that values the US company at $12.5bn including debt. The French group announced it would pay WhiteWave shareholders $56.25 per share in cash, resulting in an enterprise value of around $12.5bn. (The Financial Times £)
Boots the chemist said it expected sales of beauty products to sustain it through the uncertainty on the high street following Britain's vote to leave Europe. Alex Gourlay, co-chief operating officer of Walgreens Boots Alliance, which owns the British chain, said yesterday that if any retail business was well-positioned to do well in hard times then it was Boots. (The Times £)
Amazon has revealed plans to create an extra 1,000 new jobs in the UK after the online giant declared that it was "business as usual" despite the vote to leave the European Union (The Telegraph). The company will now create 3,500 permanent full-time jobs in the UK in 2016, taking Amazon's total workforce to 15,500 as its Prime Now fast-delivery service, launched a year ago, reaches more than a third of the UK population (The Guardian).
Gangs of cigarette smugglers and the ban on displaying tobacco products has hurt like-for-like sales at Britain's biggest cash-and-carry. Yesterday Booker Group reported a 2.9% fall in like-for-like sales during the first quarter, largely as a result of a 7.7% drop in sales of tobacco products. The retailer's non-tobacco sales fell by a much smaller margin of 0.7%. (The Times £)
MPs examining the collapse of BHS have put pressure on the accounting watchdog to widen its investigation into PwC's audit of the retailer. The Financial Reporting Council announced last week that it was looking into the Big Four accountant's audit of BHS for the year to August 30, 2014, but the joint work and pensions and business, innovation and skills select committees are concerned that the investigation lacks scope (The Times £). MPs want the regulator to examine the previous years, when PwC audited BHS and the accountancy firm's audits of other companies in Green's empire that were interlinked with the collapsed retailer (The Guardian). The call to "Widen probe into Sir Shifty's deals" comes as new details emerge of a £3.5million loan made by Green's Arcadia to the new owner of BHS and £745,000 in fees that lawyer Olswang received for advising on the deal. (The Daily Mail)