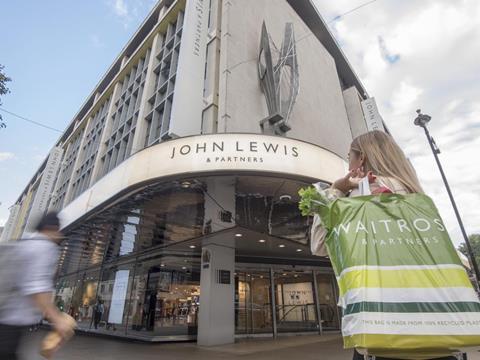 The John Lewis Partnership's next chair, Sharon White, must trigger a fundamental review of the 'Never Knowingly Undersold' slogan and consider closing some stores, a retail veteran has said. (The Daily Mail)
The "John Lewis economy", hailed by former deputy prime minister Nick Clegg as a model of employee ownership, is taking a beating says The FT. No amount of employee democracy protects against market conditions (The Financial Times £).
The Times has an interview with John Lewis Partnership boss Sir Charlie Mayfield who explains why an overhaul of the group is needed. "Our partners have to generate 25% more value than other retail workers… That isn't sustainable, unless we are also creating that kind of value." (The Times £)
Unilever has pledged to reduce the amount of plastic packaging it produces annually by about 14% by 2025 across all its brands from Dove soap to Lipton tea, and to halve its reliance on non-recycled plastics (The Financial Times £). Unilever, which owns brands like Surf, PG Tips and Walls, has said it plans to halve the amount of new plastic it uses over the next five years (The BBC).
Tesco, M&S and several other UK supermarkets admit that they cannot guarantee that soya from deforested areas is not in their supply chain despite commitments to phase out its use, the Guardian has found. (The Guardian)
Tesco boss Dave Lewis has received a major endorsement for his turnaround of the supermarket, after Unilever boss Alan Jope spoke out in praise of his five years in charge. (The Daily Mail)
The Guardian rehearses the story of how Dave Lewis saved Tesco from disaster. The retailer's departing boss did not solve all its problems. But the stable operation he leaves behind was in turmoil in 2014. (The Guardian)
Tesco shares are tipped to flourish despite departure of comeback hero boss Dave Lewis. "Assuming Lewis has hidden no unexploded bombs, he has left a good basis for growth." (The Daily Mail)
Bosses are flying off the shelves at Tesco, Sainsbury's and Waitrose, writes The Times. "Sainsbury's, Tesco and Waitrose all saw senior executives move to the bagging area last week." (The Times £)
The former boss of pub giant Greene King turned down a plea from Domino's Pizza investors to take over as its chairman, landing a blow for the takeaway chain in its attempt to calm down warring franchisees (The Telegraph). Greene King's former boss has been tapped for the chairmanship of Domino's Pizza as the delivery outfit seeks to settle a dispute with its powerful franchisees (The Times £)
A new chairman has been lined up at Imperial Brands to lead the struggling tobacco company out of its slump, but the appointment is being held up by legal issues. (The Times £)
An online ready-meal delivery start-up that wants to do away with freezers has raised £1.6m to fuel growth. Parsley Box aims to provide elderly people, who may have trouble cooking, with nutritious meals. It steams and vacuum-seals dishes such as chicken curry and cottage pie so they can be stored in cupboards instead of freezers. (The Times £)
Amazon warehouse workers in the US are protesting about their working conditions in the latest battle between the company and its workforce. (Sky News)
The Telegraph looks at why US retailers are failing to crack the British high street. "Forever 21 is the latest in a long line of US retailers which have decided to take the bold leap across the pond but tried and failed to gain traction among British shoppers." (The Telegraph)
Marks & Spencer's finance director was pushed out by chairman Archie Norman over a botched rights issue that caused the retailer to drop out of the FTSE 100. (The Times £)
The boss of Britain's largest pub company has been drawn into a row over whether it unduly influenced the way the industry is taxed. Simon Townsend, chief executive of Ei Group, disputed evidence given to MPs that the way pub business rates were calculated was "corrupted" in an attempt to increase rents for giant pub owners. (The Times £)