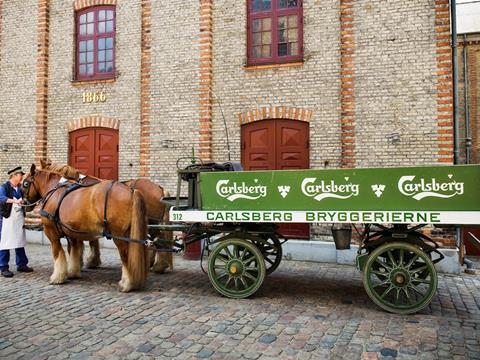 It is a quiet morning in the papers in terms of grocery and fmcg news, with Carlsberg in the spotlight following its annual results and Poundland gaining publicity after its Christmas advert was banned by the ASA.
Carlsberg has once again been pulled down by its travails in Russia, its biggest market, as a large writedown and falling volumes led to the Danish brewer's profits disappointing investors, The Financial Times reports. The group took a DKr4.8bn ($800m) writedown due to the impact of a ban on the sale of beer in certain sizes of plastic bottles in Russia, while its volumes in the country fell 14% last year. That pushed net profit for 2017 down to DKr1.3bn, well below last year's DKr4.5bn and analysts' average forecast of DKr4.9bn. The Times adds: "Carlsberg loses a bit of bottle in Russia." Carlsberg's market share in Russia fell from 34.6% to 31.9% as volumes slumped by 14%, although its focus on value meant that profits had increased.
Poundland scored the publicity it likely craved for its controversial adverts over Christmas featuring an elf in a serious of risqué poses. The Advertising Standards Authority received 85 complaints that the ads were offensive for depicting "toy characters and other items displayed in a sexualised manner" and should not have been put on social media where children could see them, The Guardian writes. Poundland said the 'Elf Behaving Badly' campaign had helped the business achieve its most successful December since it began trading in 1990, The Telegraph notes. The discounter appeared to be unrepentant the paper adds as it has already started a but it's already started a 'Top Tosser' campaign for pancake day.
Only the Lex column in The Financial Times followed up The Guardian suit that Tesco could face a £4bn pay bill in an equal pay claim. Lex says "the government is holding corporate feet to the fire and companies need a plan".
Weight Watchers shares rallied on Wednesday after the purveyor of weight loss advice said it aims to grow its revenue to more than $2bn by 2020 (The Financial Times).