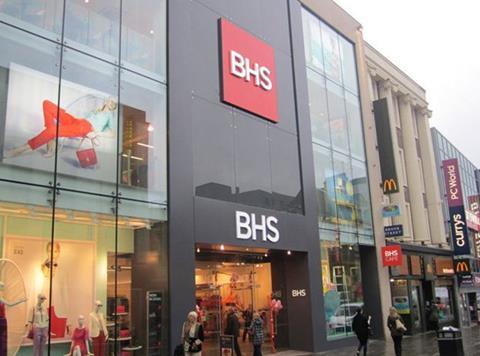 "The full scale of problems at BHS have been laid bare", according to The Times (£) after documents revealed that if the retailer were to fall into administration its creditors could receive barely a penny in the pound. The department stores chain also has revealed that the "buyout" valuation of its pension fund has risen from £452m in 2012 to £571m.
BHS has warned its creditors that they stand to lose as much as £1.3bn if they do not agree to a drastic turnaround plan this month, writes The Telegraph. The cost of paying an insurance company to assume obligations for future and current pensioners has increased by about £57m since 2012, according to a proposal sent to BHS creditors, according to The Financial Times (£).
The Daily Mail says BHS has held two crunch talks with hundreds of suppliers to reassure them of the future of the business. The department store has warned that dozens of its shops could be shut unless landlords slash the rents, and last week it said it was cutting 150 staff from its head office and 220 from shops. Major suppliers attended the meetings with senior management in Daventry, West Midlands, yesterday. It is thought they feared that bills would go unpaid.
Meanwhile, The Guardian writes that more than a third of an £8.4m loan taken out of BHS by its new owners in March last year went to four directors who were part of the consortium, handing them a multimillion-pound windfall just days after buying the struggling department store chain.
Elsewhere, the number of physical stores selling music, films and games has surged to a record high as non-specialist vendors such as supermarkets, beauty shops and clothing retailers stock up on entertainment products, writes The Telegraph. "The death of the CD and DVD may have been exaggerated," says The Daily Mail after a resurgence of physical entertainment has spawned a record number of High Street outlets selling discs, tapes and computer games. There are now 14,727 bricks and mortar retailers selling music, up from 10,391 a year ago, according to the annual yearbook from the Entertainment Retailers Association.
Britain was hailed yesterday as the global leader in internet retailing after a month in which consumers stayed away from the high street, but did not stop shopping. Digital buying of non-food products grew by an annualised 10.7% in February, the British Retail Consortium and KPMG said. (The Times £)
The FT's Lex column looks at the share price collapse yesterday of Just Eat, writing: "When a company's executives sell their shares, is it sensible portfolio management or an ill omen for other owners?… Think Just Eat's business model makes sense? Here's another one: just copy. Trying to create the Uber or Amazon of food takeaway has worked well so far — but the threat that either or both could do the same in the UK is not an idle one." (The Financial Times £)
The FT has a comment piece from the director of think tank Theos on Sunday Trading which says it is not just the churches that worry about changing the laws. The piece suggests legislators must balance practical considerations and humane principle on the issue. (The Financial Times £)