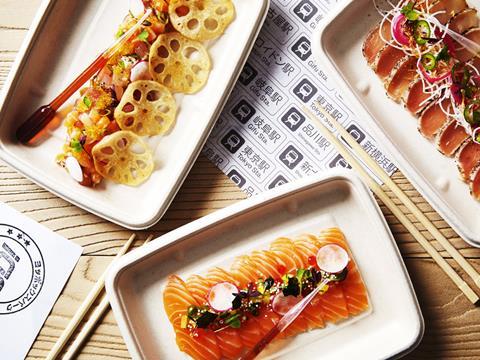 The company behind the sushi chain Yo! has halted plans for a £750m stock market listing amid growing unease among investors. Snowfox Group had appointed bankers at Numis to advise on a flotation, but heightened market volatility has put the brakes on its plans. (The Times £)
Workers at two Weetabix factories will launch four-day strikes from Monday in a dispute over pay and conditions (The Guardian). Union members have already been striking for two days a week and will now switch to four-day stoppages - but Weetabix says it has a "strong and productive" relationship with its workforce and that "fire and rehire" is irrelevant to the current dispute (Sky News).
Bosses at Marks & Spencer are expected to say next week that the retailer has recovered from the depths of its turnaround difficulties and to reveal a surge in sales of children's clothes sales, strong food turnover and half-year profits above pre-Covid levels. (The Times £)
Marks & Spencer will next week warn that shortages of some of its clothing and homeware ranges will last until spring amid supply chain chaos and increasing cost pressures (The Telegraph).
Marks & Spencer's online Christmas food ordering service has already sold out of the biggest turkeys, puddings and even Brussels sprout gratin, as shoppers go into overdrive over fears the supply chain crisis could hit this year's celebrations (The Guardian).
Is Marks & Spencer finally getting it right, asks The Times? CEO Steve Rowe has found himself surfing a wholly unfamiliar wave of optimism recently. After better than expected trading coming out of the pandemic, M&S upgraded profit forecasts for the first time this century in August, raising hopes that one of Britain's most protracted corporate turnarounds could finally be achieved. (The Times £)
The boss of THG has said that he regrets floating the embattled technology group in London, while appearing to hint that he could take the business private if its share price does not recover and comparing short-sellers with bank robbers. (The Times £)
The UK's five biggest supermarkets will try to halve the environmental impact of a weekly food shop by the end of the decade (Sky News). Five of the UK's biggest supermarkets have promised to halve the environmental impact of a weekly food shop by the end of the decade (The BBC).
British shoppers may face shortages of some of their favourite crisps until the end of the month after a botched computer upgrade disrupted the world's biggest crisp factory. (The Guardian)
The UK will soon see the most accurate and detailed measure of inflation in its history as the nation's official statistics body begins to collect price and transaction data directly from supermarket checkout scanners. (The Times £)
Global shoppers feel the pinch of rising food prices. Consumers in emerging economies are bearing the brunt, although grocery bills are not increasing as fast as the indices. (The Financial Times £)
Rural businesses have accused ministers of "levelling down" the countryside after analysis of the budget found they will suffer a shortfall of hundreds of millions of pounds in grant funding. (The Times £)
Chicken grown in vats is the next frontier of food – scientists are perfecting the art of creating tasty beef, fish and poultry in laboratories, but will it ever bring home the bacon? (The Times £)
The perma-tan is under threat this winter after cosmetics producers reported shortages of an ingredient used in a wide range of fake tan ranges, skin creams and beauty products. (The Guardian)
Sue Y Nabi, the fifth chief executive of Coty since 2015, is betting the solution to finally fix the problem-plagued, heavily indebted cosmetics maker can be found in a tube of Gucci lipstick sold online in China. After a year in the job, the beauty industry veteran has set out a growth plan built on expanding in "prestige" cosmetics made under licence for luxury brands, while also boosting sales in China. (The Financial Times £)
John Lewis has dropped plans for a dozen affordable homes in a village in Hampshire after encountering opposition from residents. (The Telegraph)
The Telegraph looks at the upstarts snapping at Amazon's heels in UK's online delivery war. Amazon retailers are being wooed by a new wave of start-ups such as Huboo, Shipbob and Byrd vying to offer retailers a more convenient and sometimes cheaper e-commerce delivery service, particularly at peak seasons when Amazon ups its storage fees. (The Telegraph)